Imagine a cloud storage ~67 times larger than what free tier of Google Drive has to offer, capable of storing  300,000+ photos taken with a 10MP camera, 230 movies, or 550+ hours of HD videos, or over 6 million documents like Office files, PDFs, and presentations. Sounds cool right?
You will need 1000 GB or 1 TB of free space to store such mammoth data. There are many paid cloud storage options that offer 1TB of space. But what if you want 1000 GB of space for free, here is the best option presently available in the market. The said huge free space is offered by TeraBox (formerly Dubox). The service offers unlimited uploads and downloads with 1 TB of free space without any additional cost.
What is 1000 GB Free Offer by TeraBox?
TeraBox is a free cloud storage tool for data backup, file sharing, and video display. You can upload, images, videos, docs, and other files for backup and storage. There is no hidden T&C as it offers 1024 GB of free space without any additional referral or hidden cost.
TeraBox was rebranded from Dubox which is an overseas version of China's Baidu Netdisk, launched by PopIn, a Japanese subsidiary of Baidu. Now it's run by a Japanese company Flextech Inc. As the Baidu Netdisk is restricted to the Chinese mainland, this can actually be considered as an overseas version of  Netdisk.
What Does TeraBox have to Offer?
TeraBox has a basic subscription plan, but out of the box, it straightforward offers 1024 GB of Free storage with unlimited upload and download bandwidth. You can signup with Gmail, Apple ID, Facebook, Email, or Phone. For Web Browser, you get a very simple interface, with the left sidebar having navigation details and categories like Pictures, Videos, Music, Documents, Other, and Recycle Bin.
The uploaded or shared files can be viewed in the viewer section with file size and time of upload.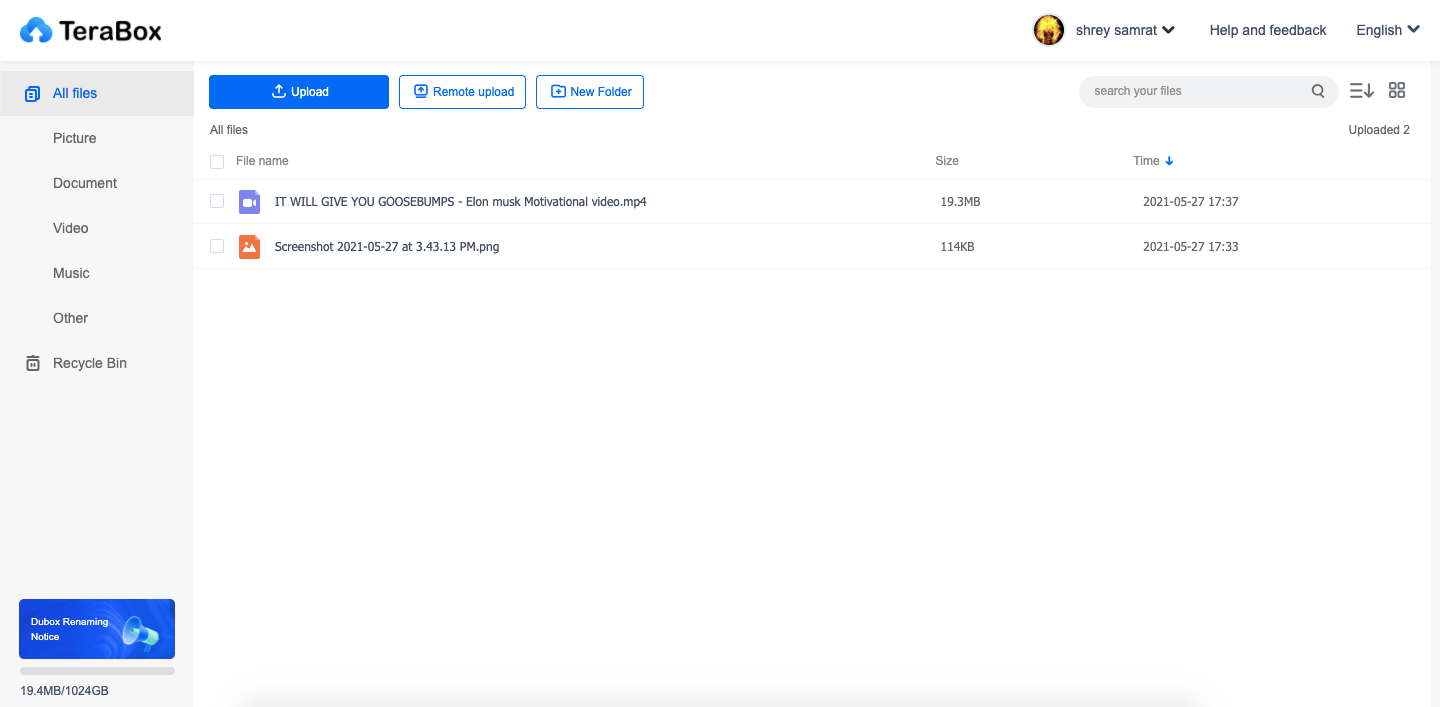 You can also send the files to receipts by entering their email or sharing a private password-protected link.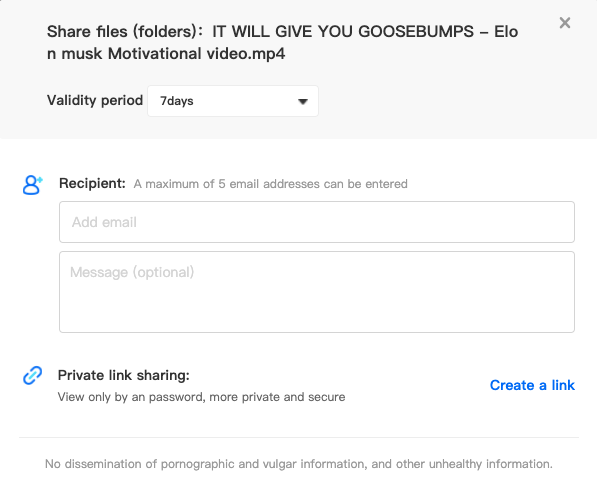 You can upload the files directly from your device/PC. The TeraBox also offers a Remote upload feature, wherein you can paste the download link from any website into the uploader and the file will directly be uploaded to TeraBox. The remote upload also supports, torrent files.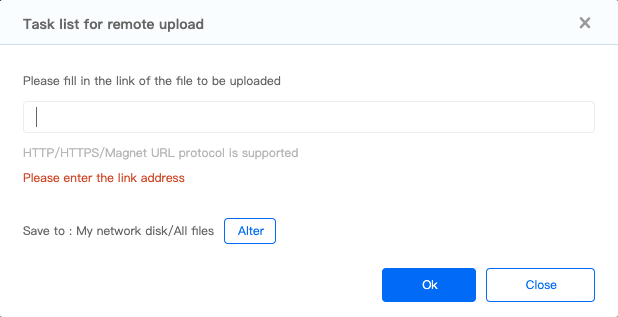 The Recycle Bin offers 10 days grace period to recover deleted files, after which they will automatically be cleared.
Like other Cloud Storage platforms, you can preview supported files within TeraBox without any need to download them. The service is smooth and works seamlessly.
There is also an Android and iOS App available to backup your mobile storage.




---
The Terabox app for android and iphone offers more refined features with automatic photo backup, app security pin lock, and a safe vault to protect your files.


---
There is also the remote upload feature for the mobile app that allows you to directly paste the download link and upload the files to TeraBox. It also has a feature that shows how much of data can be uploaded to the cloud to free up device storage space using TeraBox Space Analyser.


---
Terabox also has a standalone Windows app that allows you to backup and sync your Windows files and Terabox. Given its huge space, terabox on Windows PC can help you upload all your important documents, files, media, and applications easily from your PC.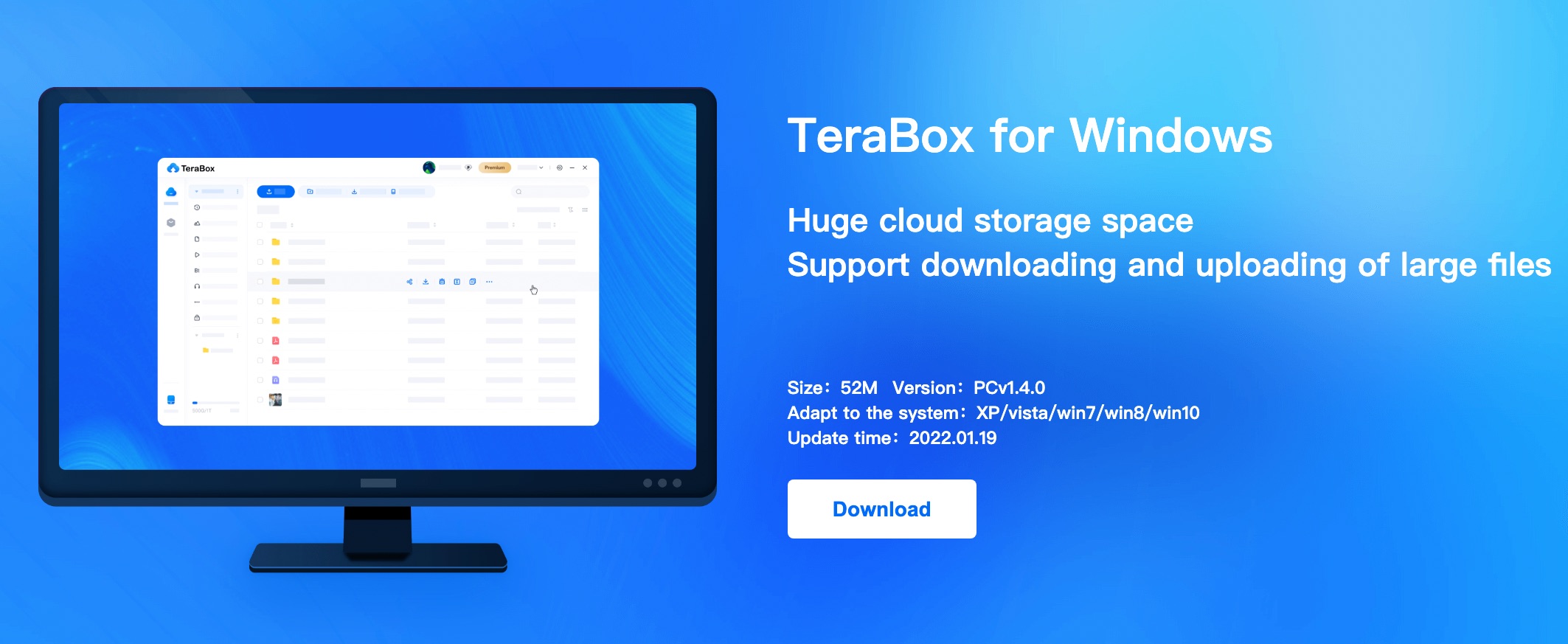 What TeraBox Premium Offers?
The premium subscription offers 2TB of space with high speed downloads. The free plan support 720p video review but with premium plan you can play videos with 1080p HD resolution support. The pro plan keeps the files in the Bin for 30 days unlike free plan that can store the deleted files in Recycle Bin for onlyy 10 days.
The price for TeraBox Pro is $3.99/month. Below is the chart showing detailed comparison of Free and Premium TeraBox user.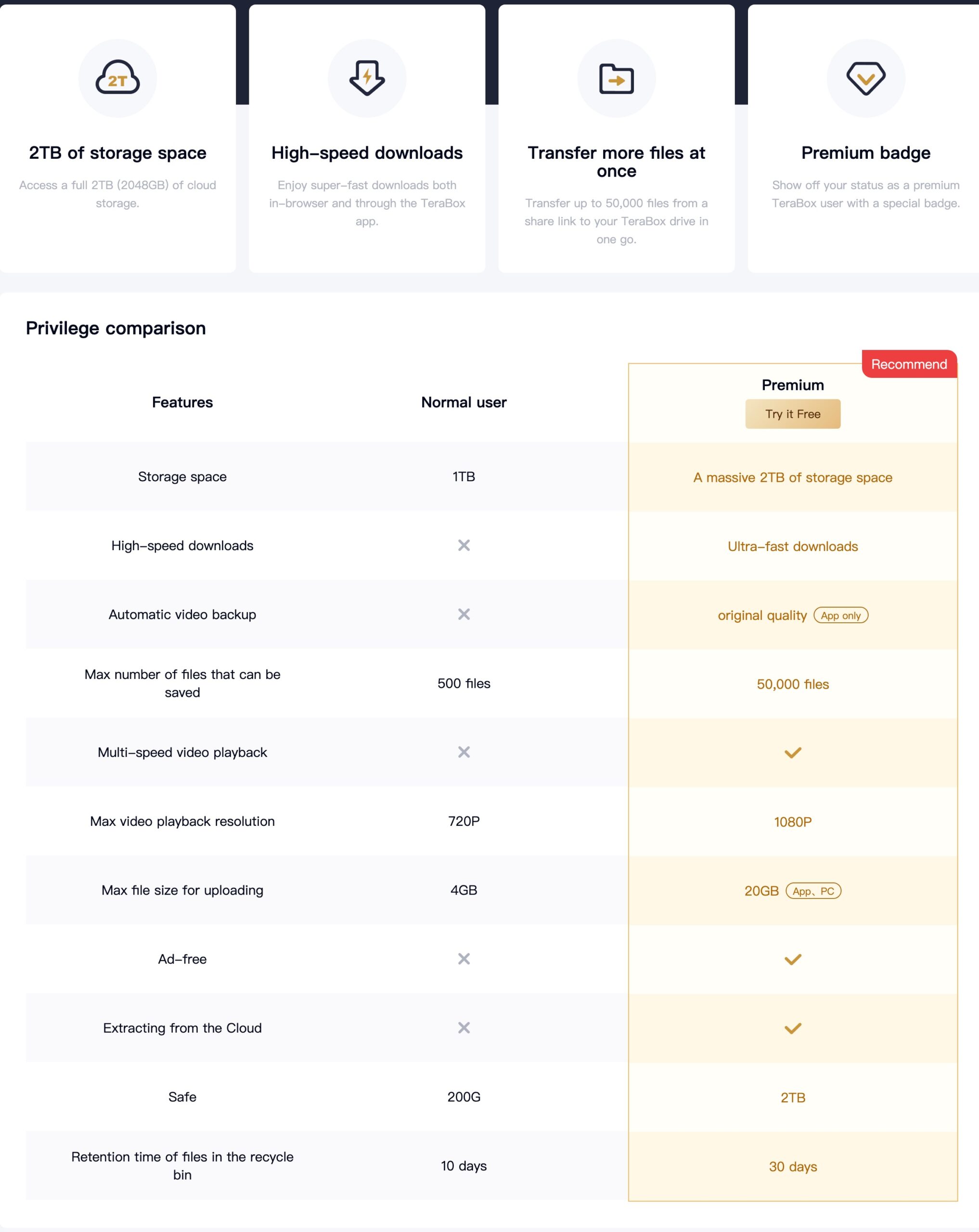 Is TeraBox Secure?
The service gains strength and that also acts as its weakness in its association with Baidu, the Chinese tech giant, the company claims it has its servers in Japan, Hong Kong, and Singapore. The two-factor authentication, encryption of files at rest, and alerts when new devices and apps are linked to your account are a few of the measures the TeraBox has incorporated.
For the mobile apps, you get built-in App lock and safe vault to protect the files stored on the TeraBox Cloud. All data is encrypted in its cloud servers itself and it also offers password-encrypted sharing links that provide risk-free protection.
If you are willing to make use of this service, there is a privacy policy page, where it details all the information. Here are a few concerns that netizens have raised and you should also have a look at them;
No API support (AKA no Rclone)
Slow Transfer Speeds, you need to buy Subscription to boost the transfer.
Free Plan is supported by Advertising
Frequently Asked Question (F.A.Q)
How Much Storage Does TeraBox Offer?
TeraBox Offers 1TB or 1000GB of Free Space without any hidden charges or subscription.
Is TeraBox Safe?
The files at rest are encrypted in the cloud and are stored at data centers in Japan, Singapore, and Hong Kong.
Is TeraBox Chinese?
TeraBox was rebranded from Dubox which is an overseas version of China's Baidu Netdisk, launched by PopIn, a Japanese subsidiary of Baidu. Now it's run by a Japanese company Flextech Inc.
What Does TeraBox Premium Offer?
TeraBox Pro offers 2TB of space with high-speed downloads and more files that can be uploaded at once.
Final Note
Though there are some drawbacks, but if you are OK with what it offers, then there is no stopping. On a positive note, the website has over 6 million users with over 10 million app downloads. So, obviously, you can look forward to using this service and uploading your files to TeraBox 1TB Free Cloud Storage.