The Box is a well-known cloud-based file storage and sharing solution with a focus on cloud content management. Since the initial launch of Box drive, it has managed to build a community of over 141 million users and the numbers are increasing day by day. Box offers plenty of products to serve both individuals and businesses.
Box drive is accessible by the web, mobile application, or desktop application. It enables the users to access the data from any device, regardless of where they are located. Besides this, it also allows you to edit or share stored content with the help of Microsoft Office and Google Drive applications.
Here in this post. I will do a detailed review of Box Drive including price, features, function, and so forth.
Box Drive Complete Over(Re)view Guide
As mentioned, Box provides cloud-based services for both individuals and businesses. The Box is better recognized for its personal use. Some of the industry giants such as Coca-Cola and Oxfam use Box as their cloud storage provider. In this Box complete review guide, we will talk about the various key points of the Box to find out whether or not it is a good choice. If you opt for the Box, then what prices you have to pay, and what features you will be able to use.
Box Drive: Pricing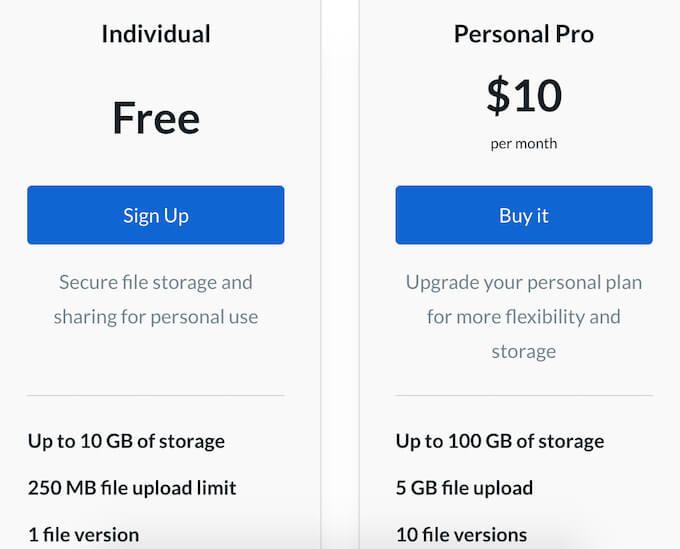 Box offers suitable plans for both individuals and businesses. It offers 10GB of free storage to individuals with a maximum file size of up to 250 MB. If 10GB of free storage space seems inadequate for you, then you can switch to its Personal Pro plan where you will receive 100GB of storage for $10/month, and the maximum file upload size is up to 5GB.
Commercial use is where Box shines. Box has introduced four plans for businesses. The starter plan provides you 100GB of storage space and allows you to upload file size up to 2GB. The plan allows you to collaborate with up to 10 team members or users and comes with built-in support to Office 365 and G suite.
The Business plan provides unlimited storage capacity with a maximum file upload size of up to 5GB and allows you to collaborate with your entire organization for $15/user. The plan comes with the built-in integration with Office-365 and G-Suite plus. Besides this, it also offers you one additional enterprise app integration. The other benefits of the Business plan include admin console access, data loss protection, and custom branding.
The Business Plus plans provide unlimited storage capacity along with the ability to unlimited external collaborations. The plans allow you to upload a single file up to 15GB. The Business Plus plan starts from $25. Besides the built-in integration with Office 365 and G Suite, the plan allows you to integrate up to 3 enterprise applications. Some other benefits of the plan include admin console access, data loss protection, and custom branding.
The Enterprise plan is the most expansive plan of Box in which you will get access to unlimited storage along with advanced content management and data protection services. This plan lets you integrate unlimited enterprise applications along with built-in support to Office-365 and Google G Suite. You have to pay $35/user to activate this plan for your organization. Document watermarking, password policy enforcement, data loss protection are other features of this plan.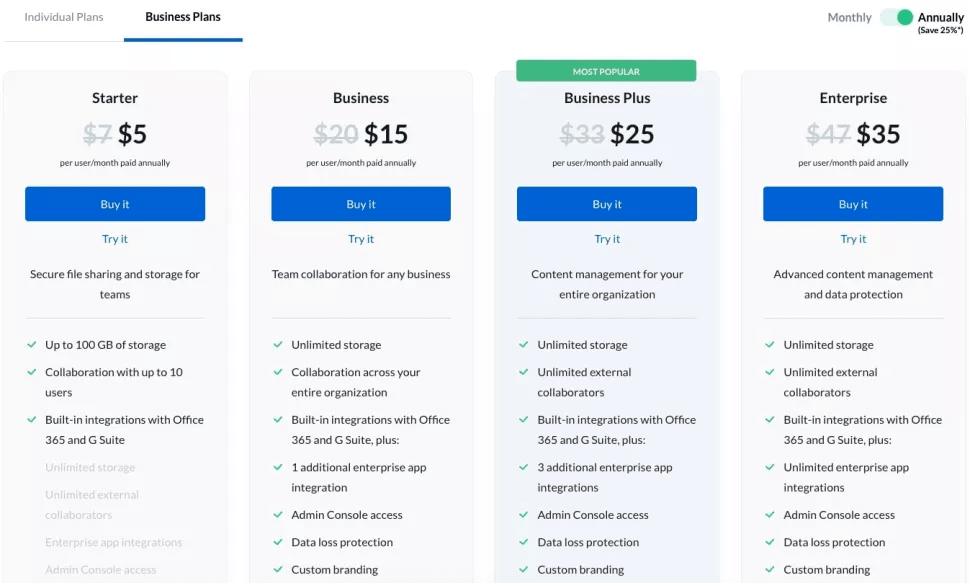 All business plans come with a 14-day trial period. You can choose your preferred package straight from the website.
Box Drive: Features
Box Drive offers a lot of features intending to serve better to both individuals and businesses. Below we have tried to outline some most common features of the Box Drive, you can go through them to learn whether or not you should invest in Box drive.
1. Cross-Platform Support
You can access the Box application on any of the browsers you want as long as you're using the latest version of the browsers. You can download and use the Box application on both Android and iOS devices effortlessly. The cross-platform support of the Box application allows you to enjoy its features seamlessly on any device.
2. Offline Viewing and Editing
You can integrate Box with popular applications such as Adobe Sign, both offline and online versions of the Microsoft Office applications. With the help of these tools, you can edit your document easily even when you're offline.
All the changes you have made to the document will automatically save when you connect to the internet. Also, you will receive a notification saying a new version of the document is available, click on the notification, and your document will refresh with the offline changes.
3. Ease Workflow
The manual and the cumbersome work process will waste hours every day. So with the help of Box automation ability, you will be able to automate your repetitive business process such as HR onboarding, digital assets management, email generation, and so forth. This way you will be able to save an enormous amount of time that can be invested in performing other essential tasks.
4. Seamless Collaboration
To run a business, you need to collaborate with a lot of people, from employees to customers to partners to suppliers. With the Box drive solutions, you can get everyone on the same page to ensure everyone can work together seamlessly. Also, you can share files from one person to another person effortlessly.
5. Improved File Sharing Support
Box has made file sharing incredibly easy. It allows you to invite members to view or edit your files through mail or link. Your receipt needs to create an account on Box to accept your email invites, with links people can access shared files or folders without creating an account of the Box.
Box provides administrators the ability to impose security validations when inviting people to view or edit files. For instance, you can grant or invoke the invited people's permissions to upload, preview, share or edit permissions. You can also lock the files to prevent editors from making changes.
Box Drive: User Interface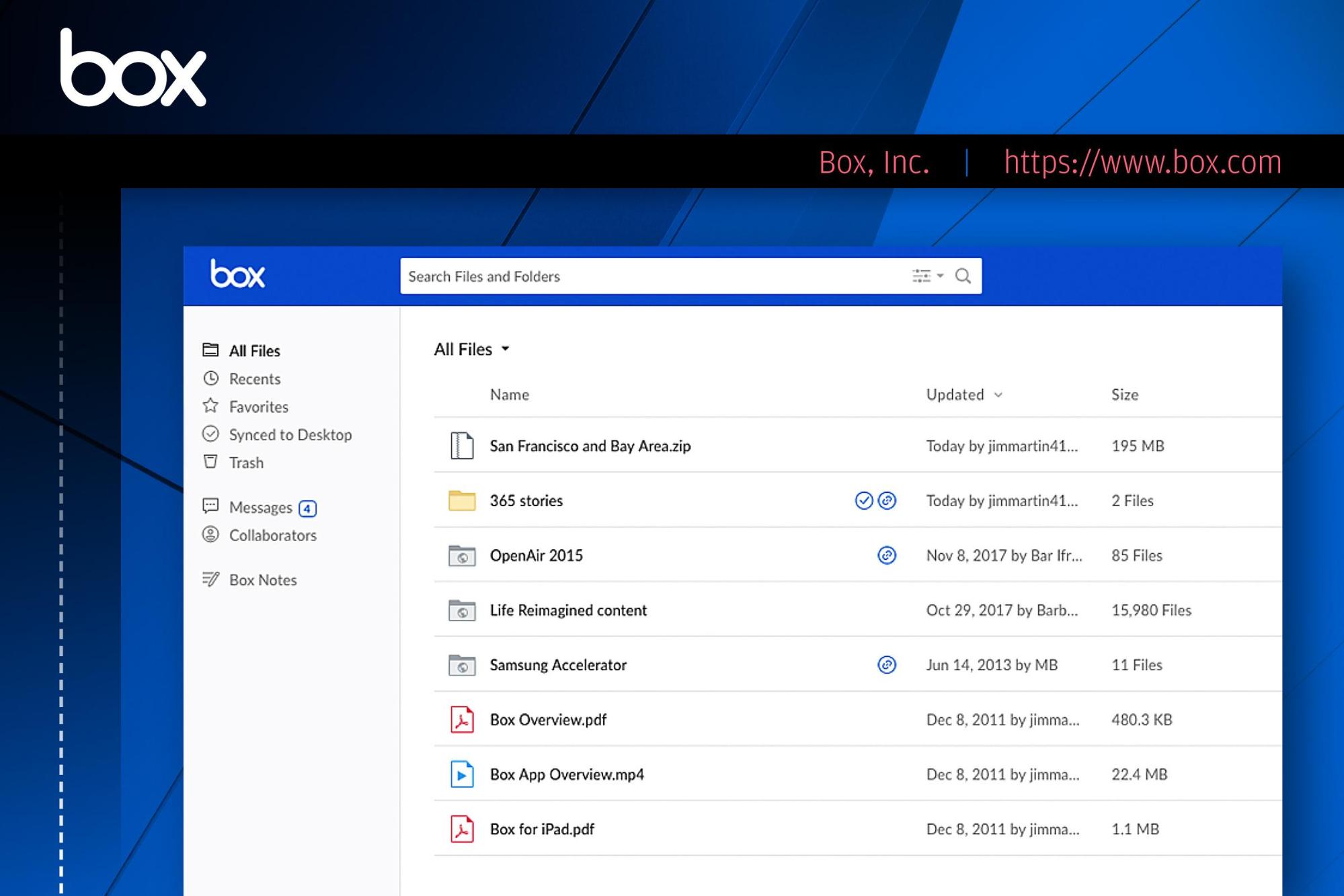 Getting started with the Box is quite easy. All you have to do is create your account, verify your email address and log into your Box account.
The user interface of the Box is clean and simple with lots of white space, blue borders, and a search box at the top of the screen. The homepage of the Box gives you the feeling similar to the file explorer with a list of files and folders. You can change the homepage layout from the list view to the grid view.
The Menu options of the Box drive include buttons such as All files, Recent, Favourites, Synched, Trash, Box Notes, and more for paid users. You can see the notification and other essential accounts related information by clicking on the button available next to the search box. On the accounts setting page, you will see other information such as how much storage you have occupied and have left.
The sync feature of the Box is very basic and provides you the ability to impose restrictions to sync files on the specified networks only. This way you will be able to improve the security. Box drive is a preferred choice for those who want to use software that stays out of the way and works in the background without disturbing other business activities.
The mobile version of the Box application is also responsive and easy to use. Navigating through the mobile application is easy and includes other features such as the ability to add a passcode.
Box Drive: Security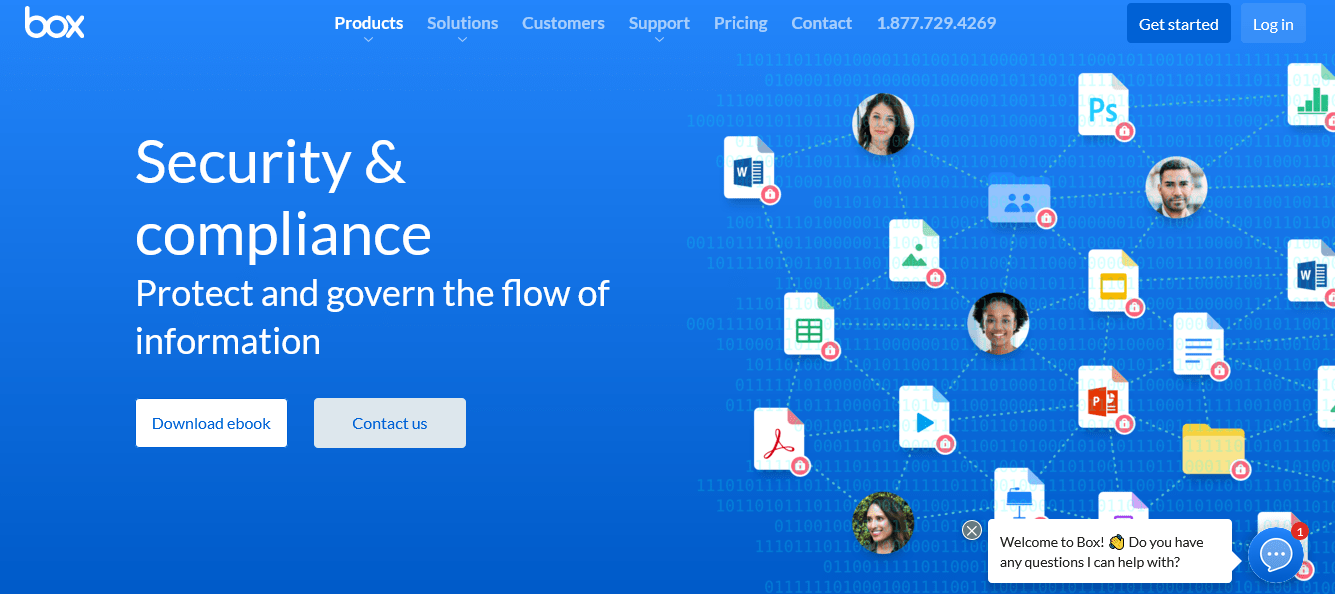 Security is one of the major concerns for both individuals as well as for businesses. The developers of the Box take security seriously. All the files stored on the platform are encrypted with the AE 256-bit encryption and a powerful approach is taken to make sure only allowed people can access the files.
Box adapts simplified governance and compliance to enable organizations to meet up with their security requirements. Besides this, you have full access to the business insight to monitor all business activities. With Box, you can opt for the 2-factor authorizations which will add an extra layer of security and prevent unauthorized persons from accessing your account.
To prevent sensitive information from leaking, Box uses fictional controls from 2FA to watermarking. You can use your encryption key with the help of Box KeySafe and take the security to the next level. If your organization demands a specific set of compliance, then Box is your best choice, as you can set up your compliance on Box.
Box Drive: Customer Service & Support
Box offers support in a variety of forms. The most prominent way is its blog section with a vast library of information guides, articles, and white papers. There is also a help center and community forums to address your specific issues. Box also provides a set of webinars introducing specific features in detail.
In case you need direct support, you can create a support ticket by logging into your account. A support page where you can seek help.
The Competition
The cloud storage world is full of options, many players in the market provide services similar to the Box. One of the biggest competitors of Box is Dropbox, which provides plans for both individuals and businesses as well as other features similar to the Box like team collaboration. The individual plan of Dropbox starts from $9.99/month and provides 2TB storage capacity. The business plan starts from $12.50/user and provides a storage capacity of 5TB.
Google Drive is another player in the market that offers similar services and plans like Box. The prices of Google drive start at $6/user and go up to $25/user.
Final Verdict 
Undoubtedly Box is one of the cloud storage services providers with a keen focus on security and convenience. Its prices might seem fragmented and higher than its competition for individuals. But it suits best for commercial use by offering them plenty of features and customizable experience to meet their specific needs. Customer service of the Box drive is amazing and quickly addresses all your queries within minimal time.
Overall, if you're looking for cloud storage services for personal use, then Box might seem expensive compared to its competition. As a business owner, Box is worth investing in and provides a lot of helpful features.