Google Drive and Dropbox are two of the top competitors when it comes to the best cloud storage options. Along with offering the best cloud storage option for photos and videos, they are also the go-to platform for creating documents and managing your team. So, with both offering the best features, which one is the winner in the Google Drive vs. Dropbox Battle?
Both applications are highly recommended for businesses, especially those whose work revolves mainly around documents and spreadsheets. Both come along with the support of different applications, making it easy to create documents, share files, and even manage your team. So, without any further ado, let's start our comparison between Google Drive and Dropbox.
Overview of the Google Drive vs. Dropbox Comparison
In our detailed comparison, we will be comparing these cloud storage platforms in the below-mentioned aspects. So, if you are looking for anything specific, you can directly jump to that part without going through the complete comparison.
Security
File sync
File sharing
Integration
Performance
Support
File recovery
Pricing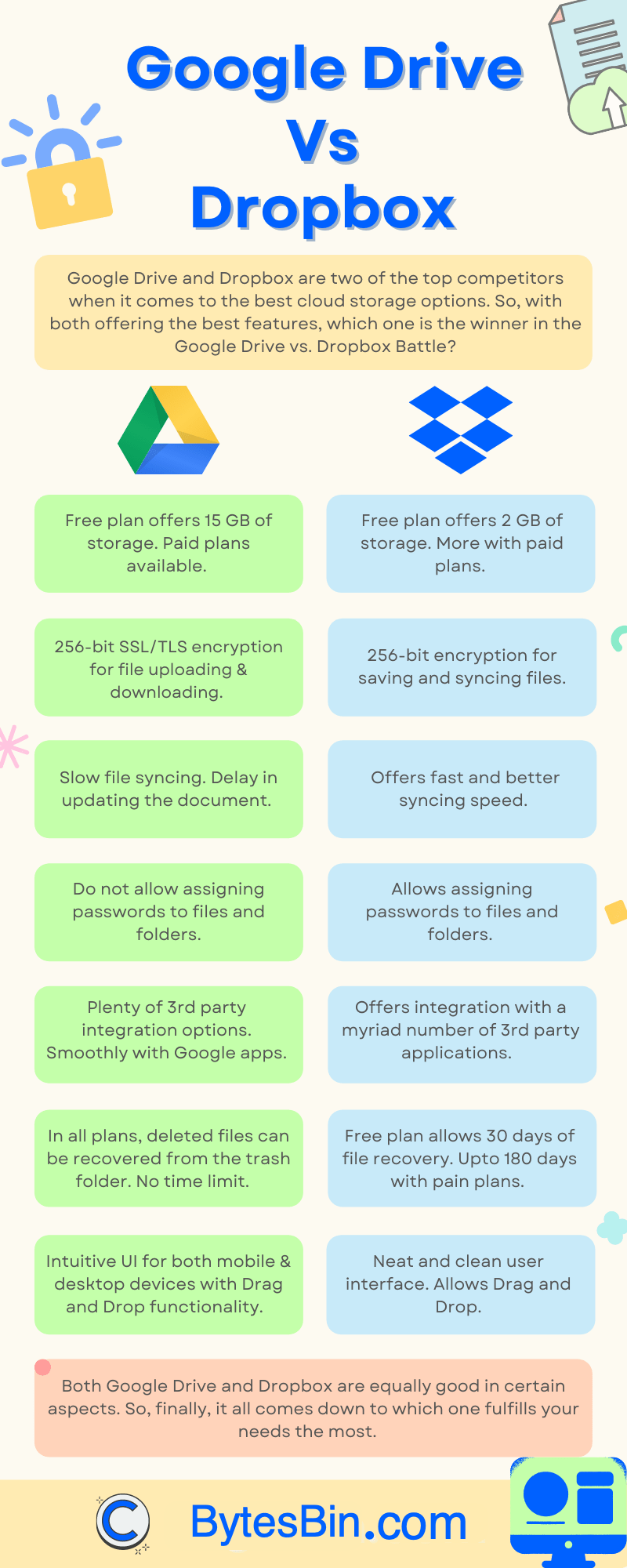 ---
Google Drive vs. Dropbox: Security
The competition gets tougher when it comes to the security features offered by Dropbox and Google Drive.
The best way to keep your important files safe from unauthorized access is to store them in the cloud. But the cloud storage options also need protection, and two of the best in the business, i.e., Google Drive and Dropbox, make sure to tick all the important boxes.
Google Drive comes with the option of two-factor authentication. This feature ensures that you or anyone else will only be able to access your account by entering a specific code sent to your registered phone number or email address. You can even choose to receive the code via a phone call or an authenticator app.
Google Drive seems to be winning the security battle as it keeps files safe by saving them on their native server. While the data is being uploaded to the servers from your device, both Google Drive and Dropbox make sure that it is fully encrypted. And once the data has finally been uploaded to the cloud storage, both applications generate a special code that will be used to decrypt the data whenever you want to access it.
Google Drive takes security to the next level by encrypting the decrypting key as well. It basically means that anyone who is trying to breach your data will need at least two keys to access them.
Now, coming to technicals, Google Drive relies on 256-bit SSL/TLS encryption for file uploading, downloading, or even being accessed by anyone. And files that are stored and are in motion are protected by 128-bit AES keys.
Dropbox works with 256-bit encryption for saving and syncing your files. It has two-factor authentication features as well, to keep your files safe from unauthorized access.
Google Drive vs. Dropbox: File Sync
When it comes to syncing files, Google Drive and Dropbox take completely different paths from each other. Although both the cloud storage platforms come with the feature of automatic file saving, Google Drive believes in downloading and uploading the entire data in order to sync it. This feature sometimes results in a delay in updating the document, especially if you're trying to access it from another device. Further, you can even lose all the "editing part" if, for some reason, you get disconnected from the internet.
On the other hand, Dropbox comes with block-level sync. This feature uploads files in edited patches rather than uploading everything at once, offering a faster and better syncing speed.
Google Drive vs. Dropbox: File Sharing
Google Drive and Dropbox both give you the option of sharing files and folders with your team and friends. In fact, they are almost identical in terms of permissions and sharing options. However, there is one aspect in which Dropbox has an edge over Google Drive.
Unlike Google Drive, you can assign passwords to files and folders on Dropbox. Anyone who wants to access the file will have to enter the password. Dropbox also comes with the option of an "expiry date". So, if you have set an expiry date for a shared file, it will stop opening after the date has passed.
Google Drive vs. Dropbox: Integration
Dropbox will be everyone's first choice when it comes to the number of app integrations it offers. With Dropbox, you can easily create and manage documents using Google Workspace and Microsoft 365. And if your business is greatly dependent on online communication, then you can benefit from the use of applications like Zoom and Slack.
On the other hand, Google Drive also offers plenty of third-party app integration as well. You can use the Microsoft 365 software used to create documents. And, applications like Adobe and Salesforce will help in creating pages and documents.
Google Drive is mainly preferred by users who have been using Google products for a long time. As Google Drive works seamlessly well with its native applications like Google Docs and Google Calendar, users consider it their go-to platform.
While the availability of third-party app integration has many advantages for businesses, it also has some drawbacks in terms of privacy. Every third-party application that you use will share your data with different companies. This means every company will have access to your files and data.
Google Drive vs. Dropbox: Which Is Better?
Google Drive and Dropbox are both top-notch when it comes to the performance they offer. Both the cloud storage applications have a very neat and intuitive interface on the desktop, web, as well as mobile.
With the recent update, Dropbox has updated its desktop version UI. Before, it was a complete replica of the web interface, but now it looks completely different. So, if you have been using Dropbox on the web browser, it might take some time for you to get adjusted to its new desktop application.
On the other hand, it's a cakewalk to use the Google Drive desktop application. You can keep your files in your favorite folders. You can even drag and drop files into certain folders. And every time you edit something, Drive will make all the changes across multiple connected devices.
Now, if we talk about speed, Dropbox has an upper hand over Google Drive. All the time taken by a file to get uploaded is totally dependent on the internet connection, but still, Dropbox takes comparatively less time to upload a file compared to Google Drive. So, if speed is a matter of concern for you, go with Dropbox without any second thought.
Google Drive vs. Dropbox: File Recovery
If you have shared your account with multiple users, it's important to keep track of everything that has been edited in a document. Dropbox and Google Drive are excellent options when it comes to restoring changes made to a document.
Dropbox does have the option of recovering files, but the duration depends on the plan that you have chosen. The basic, or free, plan allows you to recover files within 30 days. Dropbox Business and Dropbox Professional get 120 and 180-day file recovery options, respectively.
On the other hand, if you have accidentally deleted a file on Google Drive, it will be transferred to the trash folder. And luckily, it will stay there forever unless and until you manually delete it.
Google Drive vs. Dropbox: Which One Should You Choose?
Without bringing in the brand name, it is almost impossible to choose a winner between Google Drive and Dropbox when it comes to the services they offer. Both have almost identical subscription plans, the best cloud storage performance, and offer almost similar storage options.
However, Google Drive should be the go-to option if you are looking for something that has a plethora of options when it comes to integrated apps. It is also recommended for users who have been using Google products for a long time.
In terms of storage, Google Drive again has an upper hand over Dropbox by offering 15 GB of free storage. Compared to this, Dropbox offers just 2 GB of free storage, which won't be enough even for a small business.
But when it comes to security, file sharing, and faster syncing, it's almost impossible to find a competitor to Dropbox. So, if your business requires a lot of document work, then Dropbox should be your go-to option.
Google Drive vs. Dropbox: Pricing
Freebies are something that we always look for in all applications. Google Drive and Dropbox also have a lot to offer with their free services. In the free plan of Google Drive, you get access to 15 GB of storage. However, Dropbox just offers 2 GB of free storage.
If your business awards are mainly based on documents, 15 GB of Google Drive free storage will be enough for a long time, especially if you are in your initial stages. On the other hand, the 2GB of free storage will not be good for anything. Even if you are more into documents, it will be just a matter of months before you run out of storage.
Google Drive is recommended for all those who are looking for a cloud storage option for their business. In fact, it has a dedicated business plan. You will get 30 GB of storage by paying $6 per month. At $12 per month, you will get 2 TB of storage, whereas 5 TB of storage is assigned to the $18 per month plan.
Pricing-wise, Dropbox has an upper hand over Google Drive. Dropbox offers 5 TB of storage in its $15/monthly plan. And it also has the option of unlimited storage that you can get by spending $25 per month. This plan is especially beneficial for large businesses that are more into handling large files.
Overall, in terms of freebies and plans, both Google Drive and Dropbox are neither the most expensive nor the most affordable cloud-storage options currently on the market.
As you can see, both names are equally good in certain aspects. So, finally, it all comes down to which one fulfills your needs the most. Let us know in the comment section which one of these cloud storage options you are going to use to boost your business.