Dropbox is a cloud-based storage service where you can store and sync your important files. Dropbox is one of the oldest and most popular data storage services used around the globe. Dropbox is available for all devices like Android, iPhone, PCs, and Mac. Having Dropbox on your device will automatically sync the files and will be stored in the Dropbox server automatically. In this complete researched article we will only talk about its features in Android devices and how it works in android devices. Moreover how to delete Dropbox files from an Android device.
How Dropbox Works on your Android device?
Dropbox initially gives you up to 2GB of storage on Android devices which is a free service. If you want to have more storage then you have to pay for a subscription. Dropbox subscription plan is separated into two tiers, just have a look at the Dropbox subscription plans below. Dropbox allows a fixed amount of storage in its online cloud servers based on your subscription plan and it keeps synchronizing your files between the online server and your android device.
If you save, edit or make any kind of changes with your files then Dropbox will automatically update your files everywhere. The most important thing about Dropbox is- if you once upload a file in your storage then you can access, edit, and share your files from anywhere in the world even through a browser.
How to Delete Dropbox Files from an Android Device?
By following some easy to perform steps one can delete files in Dropbox on an Android phone. Not only files you can even remove a folder containing files that hold unwanted space on your Android device. Here how we operate the modus-operandi –
Launch the Dropbox app on your android phone.
Locate or go to the file/folder you want to remove.
Tap the three dots under the file a drop menu will occur now tap on delete, if it asks twice to tap on delete for making confirmation that you want to get rid of that unwanted space hosted file.

After some time the file you deleted recently will disappear from the Dropbox server and your synced android device. Congratulations! You are done.
How to Recover Deleted Files on Dropbox?
Unfortunately, if you have deleted your files accidentally then don't worry Dropbox gives you 30 days to recover your deleted files. Here is how you get your deleted files back.
Open Dropbox in any browser and sign in to your account.
Click on the deleted files option in the navigation pane situated on the left side of the window.
Tick the checkboxes you want to restore and then click on the restore option.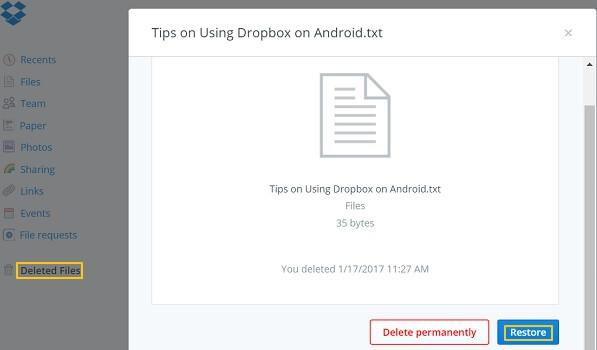 Wrapping up –
In this easy perform steps studded article, we have tried to instill your mind with basic information on Dropbox. We hope this basic information will take you to meet your smart version of yourself. You should keep one thing in mind that Dropbox gives you 30 days to recover your deleted files. However, if you want to extend this recovery time then Dropbox allows you to do this and gives you 180 days but for this service, you have to pay for this.