WhatsApp is an important part of our digital life now; with that being said, millions of users send billions of text messages through WhatsApp all around the world. These billion messages may be crucial to some users, so that is why Whatsapp has a built-in function to backup your chat messages including media files and videos. If you are looking to back up any specific chat on Whatsapp, then it is quite impossible. The only thing you can do is copy them and save them in text form or take screenshots of the chats that you don't want to lose and wish to read them later to smile.
Meanwhile, if you want to backup all the Whatsapp chats in any particular platform such as Google Drive, One Drive, iCloud, etc. then you have a dedicated backup solution right in the Whatsapp app. Taking chat backups is important as it helps you to retain text message memories and important business communications. Today, we guide us on how to backup Whatsapp to iCloud to help you create your Whatsapp chats backup.
How to Backup WhatsApp Chat to iCloud?
Backing up your Whatsapp chats to iCloud isn't a challenging task to do. You need to turn on iCloud Drive for Whatsapp backups on iPhone and then enable the iCloud to backup your data. So, let's see how.
Steps to turn on iCloud Drive for Whatsapp backups on iPhone
First of all, you need to go to the Settings apps on your iPhone.
After that, click the Apple ID banner.
Here click on the iCloud option.
Now, you navigate through it and scroll down to the bottom of the window.
Then, click on the toggle located next to WhatsApp to the green 'On' position. This will turn on the iCloud access.
Steps to back up your data to iCloud
The first and foremost step is to open WhatsApp from your Home screen of your iPhone.
After that, you need to click on Settings located at the bottom of the page and look like a gear icon.
Then, click on the Chats button
Now click on Chat backup.
Now, click on the Back Up Now option to upload your Whatsapp chat data to iCloud storage.


You may need to login with iCloud Drive to Grant Backup Access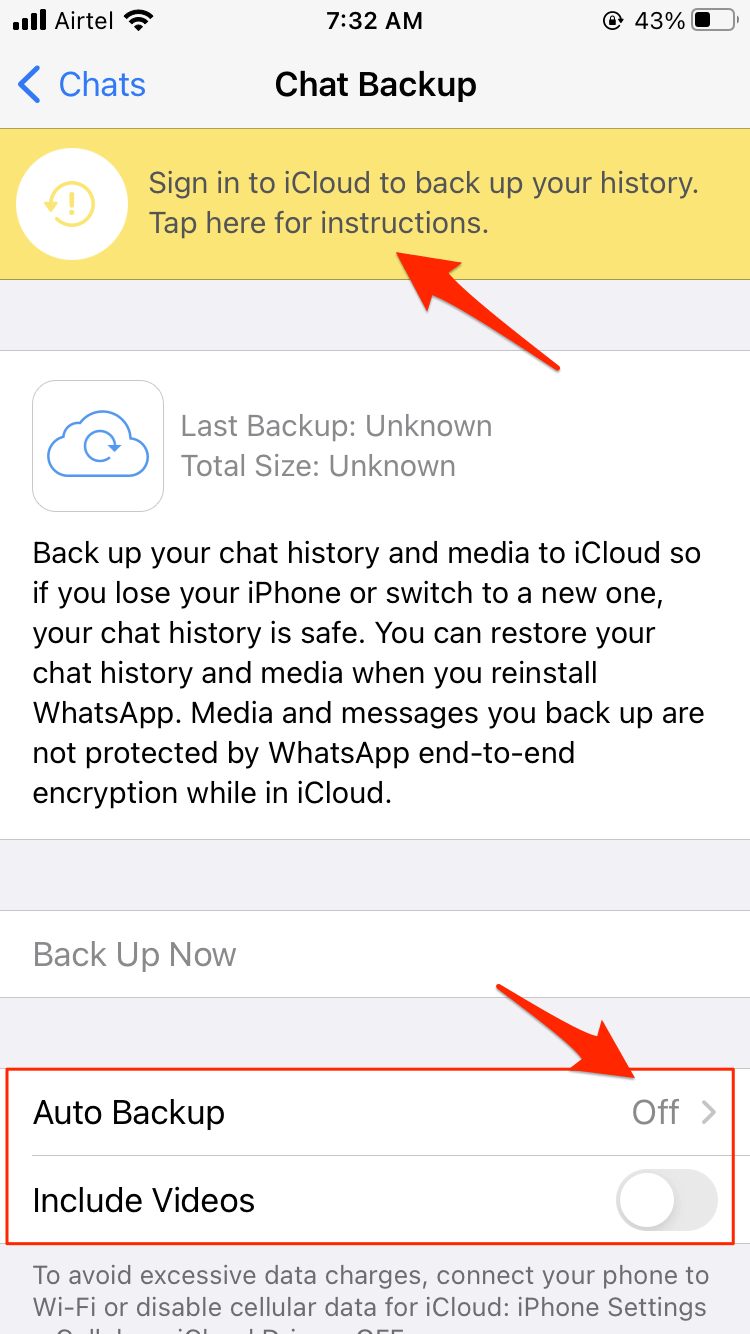 However, what if you want to set up iCloud to automatically backup your chats? Don't worry! You can do so, how? Follow the steps given below:
Initially, you need to click on the Auto Backup option in Whatsapp.
After that, click on the backup frequency tab as per your liking.
Well, you have three options in the backup frequency, i.e., Daily, Weekly, and Monthly.
Now, once you select the time interval to backup your chats, you need to click on the Chat Backup; this will bring you back to the last settings menu on your iPhone.
At last, you can click on the toggle button located right next to "Include videos" to select whether or not you want to backup your video chats on iCloud storage.
Frequently Asked Questions • F.A.Q
Can I Backup iPhone WhatsApp to Google Drive?
No! iOS does not support WhatsApp backup for Google Drive. You can only Back up chat and media to iCloud Drive.
Can I Auto Backup WhatsApp Chat to iCloud?
Yes! Whatsapp for iOS offers the option to auto-upload the chat to iCloud automatically.
Is WhatsApp iCloud Backup Safe?
Yes! iCloud is highly encrypted and you can expect all your chat data to be safe with Apple Cloud Storage.
Conclusion Once you have completely followed the steps, your chats start backing up on your iCloud storage. Now, you do not need to worry if you lost your phone or lost your data from your internal storage. You can restore your chats anytime when you need them after reinstalling your Whatsapp on your iPhone. So in case, your phone is lost or malfunctioning, you can rest assured as all your chats will be safe and secure in your iCloud WhatsApp backup.