Google Docs is the most popular online word processor platform that works on web and mobile apps. The best thing about Google Docs is it is totally free, works online and offline, offers mammoth editing features for creating perfect documents online. With Google Docs you can create Word documents, also you can create PPT Presentation using Google Slides, Spreadsheet using Google Sheets, and Survey Forms using Google Forms.
It is important to note that all these free word processing tools are a part of Google Drive. When you save the document it will take up space and you can check the doc files in your Google Drive account. Now if knowingly or unknowingly if you have deleted your Google Docs, Google Slides, Google Sheets, or Google Forms permanently from your Google Drive Trash Bin, then there is a way you can restore Google Doc files purged from Google Drive recycle bin. So, let us look at some of the best methods to restore permanently deleted Doc Files from Drive.
rive files, only if you follow the methods given in this post as mentioned. Let us check them out.
Recover Google Doc Files From Trash
To begin with, one of the easiest workaround for recovering deleted files is to look for them in the GDrive 'Trash' folder. Google Drive stores all the deleted files in the 'Bin' folder for 30 days. After which, all the files in the folder going beyond the time limit are permanently deleted.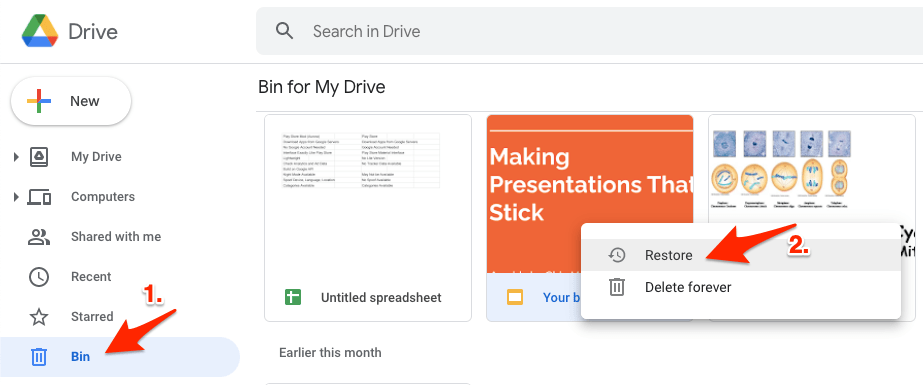 So, you can head over to the left-hand-side pane, and click on the Trash folder. Here, you will find all of your deleted files. Simply right-click on the file that you wish to recover and hit the 'Restore' button.
Steps to Get Back Permanently Deleted Google Docs from Bin
Go to Find or recover a file Google Support Page.

Scroll down and click on Sign in under Need more help?

Here login in with the Google Account for which you wish to recover the photos.
If you are already signed in make sure you select the correct Google Account from the account list.

Once signed in you will see two options; Ask the Help Community and Contact Us
Click on Contact Us.

Fill in the details.
First, tell Google that you wish to restore the photos and click Next Step.

Confirm your issue.

Scroll down and click the Next step.

Here you will be given two options Email and Chat Support.
Click on Chat support.

Confirm your Email Address and other details and click Submit.

A small chat box will open at the right bottom corner.

A Google Drive Specialist will be available within a few minutes.
Tell him/her about your issues and he will ask you for some details.
He/She will confirm your email and type of document.

The support will also give you some details regarding the recovery.

Once you confirm the recovery, it will take a few minutes to recover the files.

You can check the Google Docs files will be back in your Google Drive account.
If the Chat support is not available you can contact the GDrive via Email Support to recover the Doc files. Just fill the email form, your files will be recovered within 48 hours. You will also receive an email confirmation file recovery.

With this simple guide, you can recover deleted Google Docs, Google Slides, Google Sheets, or Forms documents from your Google Drive trash even after 30 days of deletion.