DropBox is one of the most known names in the cloud storage industry. Similar to other cloud storage solutions, DropBox keeps your important files synced across various devices and allows you to access them seamlessly as long as you have an internet connection.
Furthermore, you can also use DropBox to back up your important files to prevent them from losing. DropBox emerges as a valuable solution to both individuals as well as for businesses. Using DropBox you can access files on multiple devices including desktop, Mac iPhone, and Android.
To understand what DropBox offers, how much it will cost you, and whether or not it is the right choice for you, we have brought out today's informative post. In this post, we will do a complete overview of DropBox.
Features of DropBox
DropBox is a feature-rich application that comes with an easy-to-use interface. Some of the most prominent features of the DropBox we have outlined below.
Store Files of Any Type
DropBox allows you to store all kinds of files including images, videos, documents, spreadsheets, and more in a single place. You access this stored information across multiple devices without a lot of hassle. Even if you can edit and make changes to them on any device, changes will take place on all synced devices immediately.
Convenient File Searching
Do not spend a lot of time searching for a particular file on DropBox. All the data on DropBox well-organized into the folders. You can also take benefit of the enhanced search feature to find a particular file on DropBox.
Access files Offline
This feature comes in handy when you have no internet connection and you want to access your important files. The feature is accessible to both mobile and desktop versions of DropBox.
Collaboration and Sharing 
DropBox comes with an impressive range of collaboration features to get your job done effortlessly. The Dropbox Paper is a collaborative workplace of DropBox in which people from different areas of an organization work together on the same project. For better security, users can allow or invoke several permissions such as who can view, comment, and edit the shared file and many more. You can even assign different permissions to each user and can create collaborative documents with the help of the DropBox Paper integration feature.
Furthermore, you can integrate DropBox with numerous third-party platforms such as Slack, Zoom, and many more to streamline your workflow.
Maximum File Size and Upload Limits
DropBox is a preferable option for those who work on large files and upload limits. The desktop and mobile application users of the DropBox can enjoy the unlimited upload limit. However, with the web application, you are restricted to upload up to 50GB of files.
Backup 
The best feature of Dropbox is its backup abilities. DropBox can make an automatic backup of all your files including, photos, videos, documents, and so forth from mobile and desktop devices. All you have to do is download the DropBox application on your mobile or desktop and configure its backup feature as your preferences.
Retrieve Lost Files
You have a certain time in which you can recover all your lost files on DropBox. The time varies as per the account type. If you are using the free account of the DropBox, then you can recover lost files within 30 days, however, if you use the Business version of the DropBox then this period will extend to 120 days.
Cross-Platform Supports
DropBox offers you cross-platform support to make it accessible through all the devices you are using. You can download and install the DropBox on Android, iOS, Windows, and Linux operating systems effortlessly.
DropBox Interface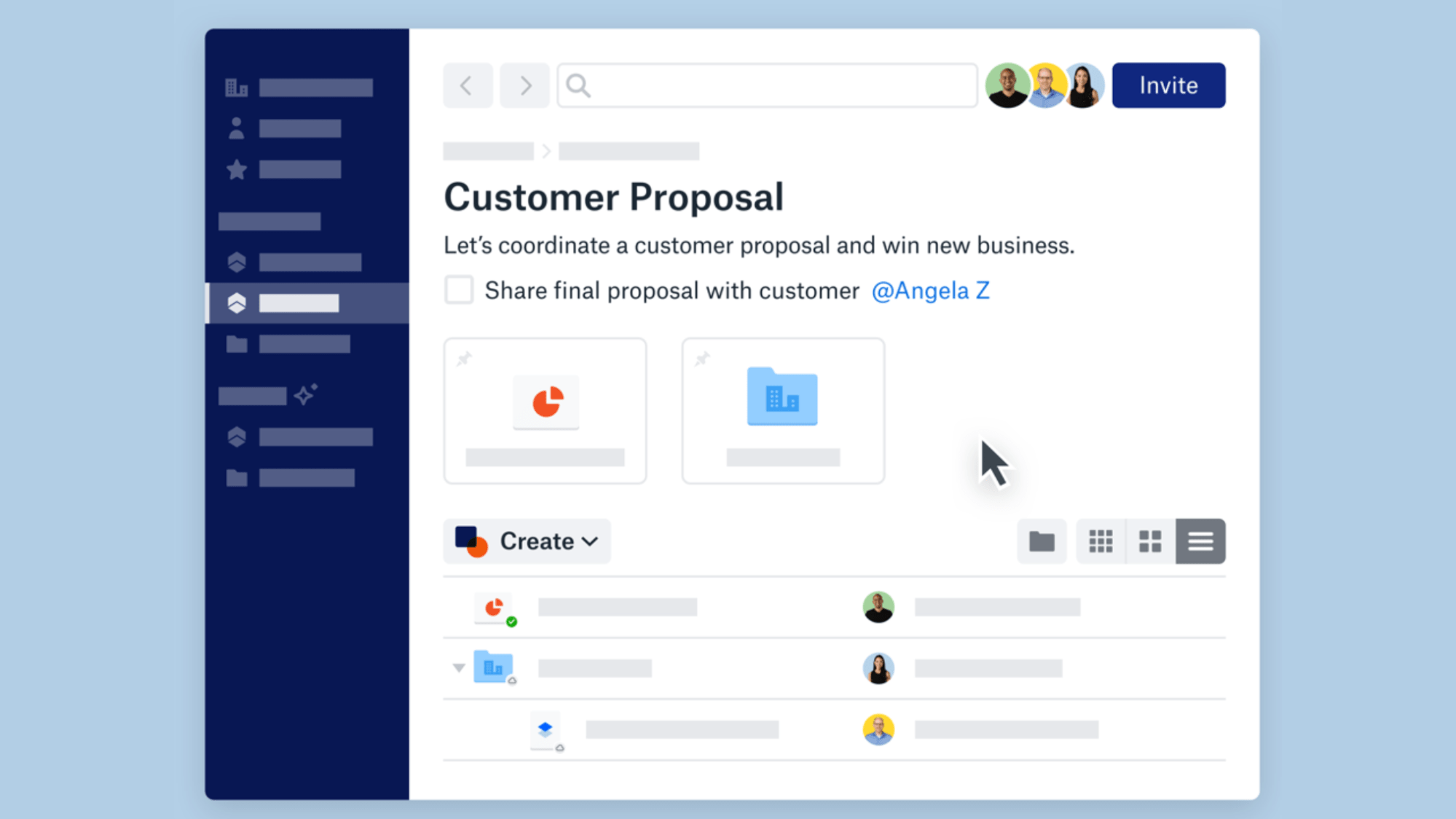 DropBox has a well-organized neat and clean interface to allow you to manage files easily. Whether you want to upload a new file or want to share a file with your community, DropBox lets you do so easily, no matter what device you're on.
The client application of the DropBox for Windows 10 and Mac computer got a new and fresh look recently, and now the interface looks more modern and elegant. DropBox keeps track of recent changes to the file and gives you an overview of what is happening with your file. Making changes to the synching settings and keeping an eye on the bandwidth use is a straightforward process. Also, DropBox's file upload and download speed are quite impressive in comparison to its rivals.
The web interface of the DropBox is also pretty amazing. When you click on any of the files or folders, it will open in flash and you can play media straight from the web application.
The mobile application's interface of the DropBox is a trump in comparison to cloud storage solutions. It has a simple and clean interface that allows you to view and manage files easily. Moreover, using the mobile version of the DropBox, you can even scan photos and documents. No matter on which device you're using, the DropBox will provide you an aesthetics feeling.
DropBox Security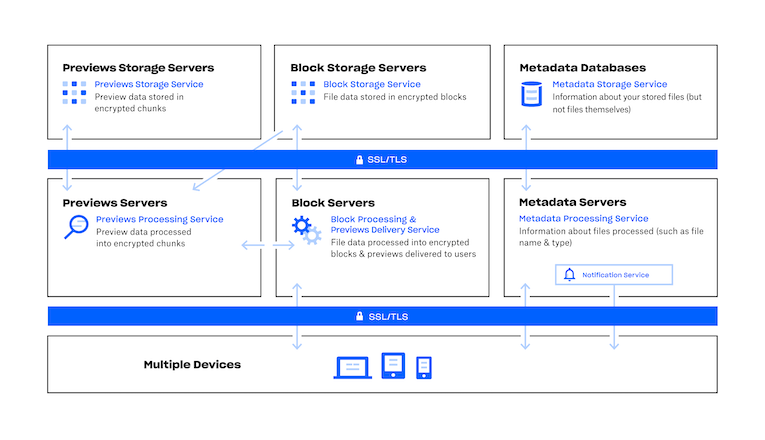 Security is one of the major aspects which differentiate DropBox from other cloud storage solutions. The DropBox is equipped with the protection of an SSL/TLS certificate for securely transferring files from one device to another. All the data stored on the DropBox is encrypted with the 256-bit Advanced Encryption Standard (AES). Furthermore, you can enable two-step verification to add an extra layer of security to your DropBox account. Security is something where DropBox never seems lacking.
Support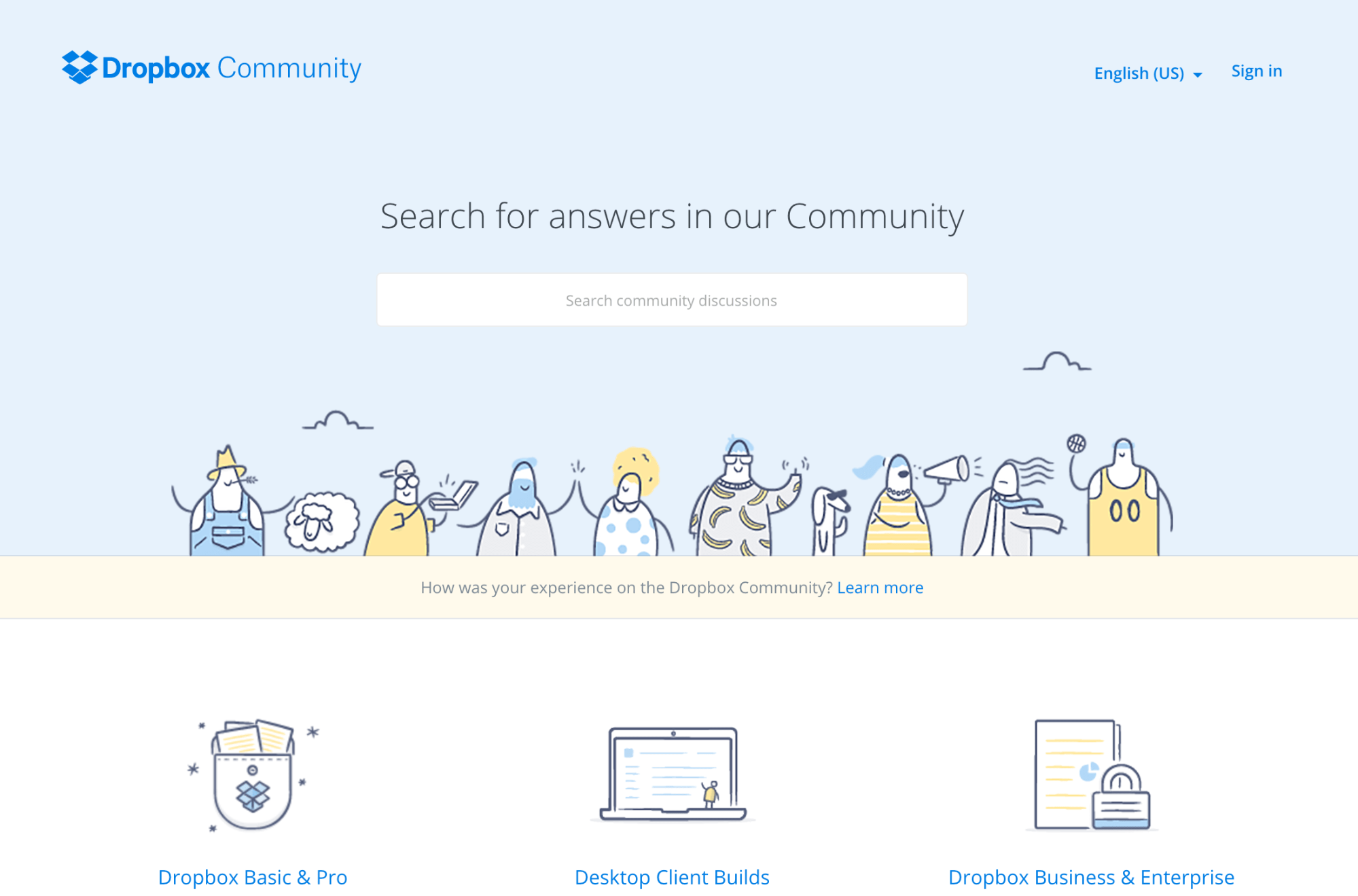 DropBox provides extensive support, so you never felt left out. DropBox presented its users with the DropBox help center, where you can get access to the guides, how-to-videos, and other helpful articles.
DropBox also answered hundreds of questions on its forum to assist its community. Besides this, all the premium plans of DropBox provide priority email supports. All business accounts can take advantage of real-time chat support to seek out their answers.
DropBox Plans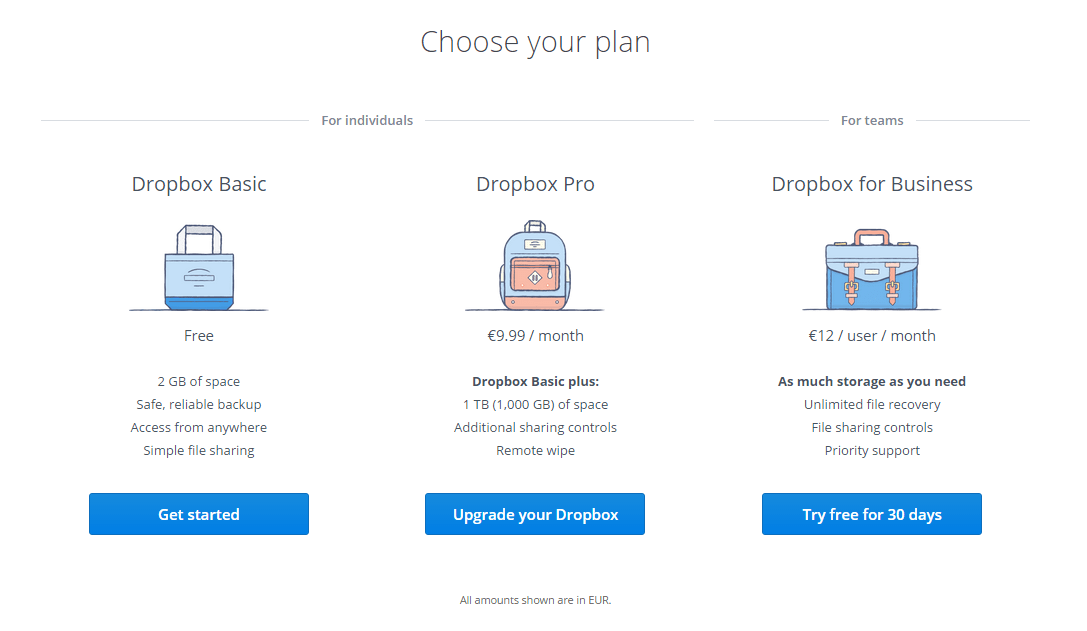 DropBox offers three plans suitable for both personal and enterprise uses. We have outlined all three versions along with their benefits to determine which one is best suitable for you.
1. Basic
The basic free account of DropBox comes with 2GB of storage capacity. The basic version of the DropBox provides you with the 30-days of file recovery, file requests, camera uploads, documents scanning, DropBox paper, and seamless access to DropBox throughout multiple devices. This free plan is best suitable for individuals, however in comparison to its competitors such as Google Drive the storage space seems quite low.
2. DropBox Pro 
If 2GB of storage won't be adequate for you, then you opt for DropBox's premium version called DropBox Pro. This plan comes with 1 TB of storage space and will cost you $99 annually. The plan provides you with priority email support, allows you to access files while you're offline, and remote data deletion if your device gets lost or stolen.
The DropBox pro plan is best suitable for those who need an exorbitant amount of storage space and most often seem to need to access files offline.
3. DropBox for Business 
DropBox offers three business plans suitable for both team and individual usages. Below, I have outlined all three plans.
DropBox Professional
DropBox professional plan provides you with 3 TB of storage space and will cost you around $16.58/month, if you opt to pay annually, monthly it will cost you $19.99/month. This plan allows you to transfer up to 100GB of files along with the features such as smart sync, offline file access, and full-text search feature.
The professional plan enables you to retrieve lost files for up to 180 days and allows you to wipe data remotely. The plans also fuse the priority email and chat support, so you never felt left out at your odd hours. File locking features prevent files from being accessed by unauthorized persons. Document watermarking also comes with this plan, which enables you to add a watermark to every file you sent.
DropBox Business Standard
DropBox Business Standard plan is suitable for team usage. It provides 5TB of storage space and costs you around $15 per user. In addition to the DropBox professional plan benefits, it offers you an admin console and audit logging feature along with priority email, chat, and phone support.
Dropbox Business Advanced
DropBox business advanced plan is suitable for large organizations. This plan provides you with unlimited storage capacities and will cost you $25 per user per month. The plan covers all benefits of the business standard plan and in addition to them provides some other features as well, such as advanced admin controls, invitation enforcement, Single sign-on SSO integration.
For customized enterprise plans you have to contact the DropBox sales team DropBox also provides an impressive discount to non-profits organizations and educational institutes.
Final Verdict 
DropBox emerged as the popular and innovative cloud storage solution and became the first choice for both business and personal usages.
DropBox provides you with improved collaboration functionalities, which makes it the best cloud storage solution for organizations. Although it seems an expensive option, in return for its price it provides highly secure cloud storage solutions.