OneDrive and Dropbox are two of the best cloud storage services, and there's a very minute difference when it comes to the services they offer. Both these applications unlock the ability to backup and share your favorite files. They also help big businesses increase their productivity and communication.
OneDrive is suitable for those who are more into Office documents and need a quick and responsive application. On the other hand, Dropbox comes with unlimited storage plans, eliminating the thought of running out of storage. So, if you are more into storing large files, Dropbox could be a go-to option for you.
However, these aren't the only things they offer. The main point of contention here is which of these will assist you in effectively managing your business. Let's find out the answer in this detailed OneDrive vs Dropbox comparison.
Overview of the OneDrive vs. Dropbox Comparison
In our detailed OneDrive vs. Dropbox comparison, we will be comparing both these cloud storage platforms in the below-mentioned aspects. So, if you are looking for anything specific, you can directly jump to that part without going through the complete comparison.
Setup
User Interface
Pricing
Security and privacy
Syncing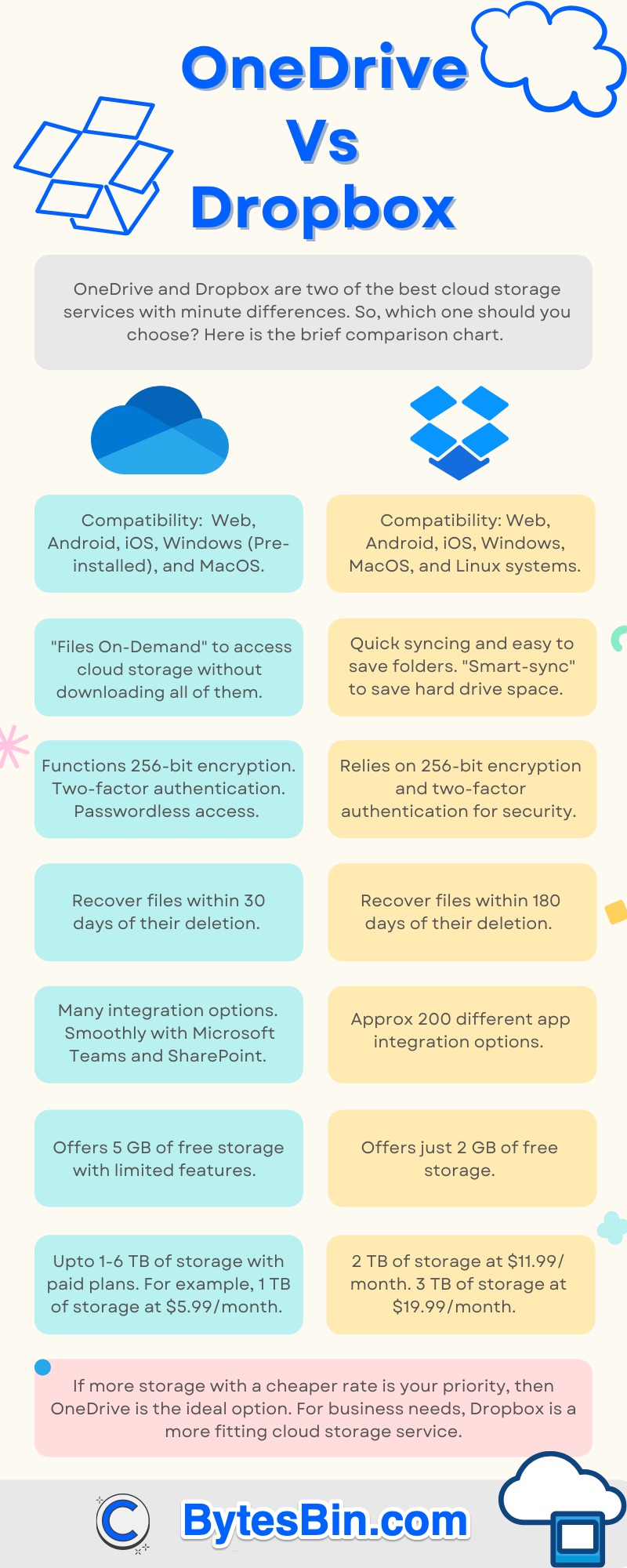 OneDrive vs Dropbox: Setup, and Compatibility
If you are new to the cloud storage platform, you might find it difficult and fuzzy to set up both OneDrive and Dropbox. To start off, you will have to sign up using your name and email address. You can either use Microsoft's native email domain or you can even use other providers to create an account.
Both applications can be accessed via desktop, web, or mobile applications. Microsoft OneDrive comes pre-installed on all Windows computers. But you can even use it on macOS. Dropbox is compatible with Windows, macOS, and even Linux-based systems.
If you are accessing OneDrive on a desktop, you will just get a folder where you can easily drag and drop files. Similarly, Dropbox is also accessible via folder, but it also has its own desktop application.
Winner: Dropbox
OneDrive vs Dropbox: User Interface
Onedrive and Dropbox make it easy for their users to save and sync their files. And you can even access all the saved files at any time, anywhere without any complications.
Both OneDrive and Dropbox have well-designed web browser applications. Later, you can directly create files inside both these applications and they will automatically get synced to the cloud. The mobile applications of both these platforms work similarly as well, i.e., uploading and creating files come free of complications.
Above all, the feature that makes these two different from other cloud storage options is their ability to scan documents. This feature can prove to be a helping hand if your business has lots of paperwork.
Winner: Draw
OneDrive vs Dropbox: Pricing
Both these cloud storage services offer a certain amount of free storage. However, most of their features will only be unlocked after purchasing their respective subscription plans. So, let's check out how much storage you will get after paying their respective subscription fees.
Microsoft OneDrive offers 5 GB of free storage with limited features. The free version has also been given access to just 3 files for your personal vault. Compared to this, Dropbox offers just 2 GB of free storage. And you can just connect 3 devices to the free account. Dropbox comes with an exclusive password feature that allows you to keep your files safe from unauthorized access.
Paid Plans
The subscription plan is one of the most important aspects of any cloud storage service. So let's compare the subscription fees for OneDrive and Dropbox.
Microsoft OneDrive Subscription Plan
By purchasing the Microsoft OneDrive subscription plan, you get access to additional storage, features, as well as different Microsoft apps. However, compared to other cloud storage options, OneDrive offers a subscription plan, i.e., 100 GB for $1.99 per month. Furthermore, on the negative side, the subscription plan doesn't have the support of other office apps. Thus, you will have to purchase the Microsoft 365 plan if you need more than 100 GB.
Microsoft OneDrive has a personal and family plan as well. The personal plan costs $5.3/month, and it comes with 1 TB of storage and support for different Microsoft apps. When you sign up for the OneDrive family plan, you will be able to share your account with up to six different people. And each user will get 1 TB of storage and access to the Microsoft software suite.
If you don't need the other Microsoft apps that come with the OneDrive subscription, you can go with the business plans. To be specific, there are 2 OneDrive business packages. But among both, the initial business plan is preferred by most users. It costs $5 per month and comes with crucial business-related apps like Microsoft Teams and SharePoint. Needless to mention, the 1TB of storage that it offers to each person is associated with the plan.
Dropbox Subscription Plan
Dropbox's basic plan starts at $11.99 per month for 2 TB of storage, which is comparatively expensive for normal users. Similar to Microsoft OneDrive, Dropbox also has a professional plan. It starts at $19.99 per month and offers 3 TB of storage.
If your work demands more storage, you can go with the $15 per month plan. It offers 5 TB of storage and allows you to use Dropbox paper. It is Dropbox's native Microsoft Word competitor. Although it is not as functional as Microsoft Word, it can be helpful for basic note-taking and collaboration.
Winner: OneDrive
OneDrive vs Dropbox: Security and Privacy
Both Microsoft OneDrive and Dropbox rely on 256-bit encryption for saving and syncing your files. Furthermore, both feature two-factor authentication, making it almost impossible for hackers to get access to your files. Plus, according to recent news, Microsoft is planning to introduce passwordless access to OneDrive in the coming few months. So, after this, you will have to enter a unique code that will be sent to you via email or SMS every time you want to access your account.
On the negative side, neither of these cloud storage options comes with end-to-end encryption. So, anyone in your team who has access to the encryption key can easily manage files and folders. The unavailability of end-to-end encryption indicates that anyone who somehow manages to infringe the security protocol of OneDrive and Dropbox can easily access your files.
So, neither OneDrive nor Dropbox is ideal if you are more concerned about privacy and security.
Winner: Draw
OneDrive vs Dropbox: File Synching
Onedrive and Dropbox both give you access to upload and sync files to different devices. If you are using OneDrive via desktop, then you can select the automatic backup process to regularly back up your folders, pictures, and documents.
Both the cloud storage options feature block-level sync. This feature uploads files in edited patches rather than uploading everything at once, offering a faster and better syncing speed.
There is another common feature in both the cloud storage options, however, both have different names for it. Microsoft OneDrive calls it "files on demand". On the other hand, Dropbox has named it "Smart-sync". Using this feature you can choose which file you want solely on the cloud storage.
OneDrive vs Dropbox: File Recovery
Dropbox and OneDrive both allow you to recover all accidentally deleted files. To be precise, in Dropbox, you can recover the file within 180 days of its deletion. However, with Microsoft OneDrive, you can recover the file within 30 days of the institution.
The recovery time period offered by Microsoft OneDrive is very small. We had expected much more, especially from such a popular cloud storage platform.
OneDrive vs Dropbox: App Integration, and Collaboration
The number of app integrations offered by both OneDrive and Dropbox makes them the go-to platforms for businesses. Microsoft OneDrive comes along with the support of apps like Microsoft Teams and SharePoint. You can use them to communicate with a large-scale team situated in different departments.
On Dropbox, you get the support of apps like Adobe, which is an essential application for creative minds. It also comes with some integration, making it an ideal choice for companies to organize online meetings. Talking about the numbers, Dropbox currently has more than 200 third-party app integrations, giving it an upper hand over Microsoft OneDrive.
If you are more into collaborations, Microsoft OneDrive will be the go-to option for you. From commenting to editing documents, you can do everything in real-time. Being a Microsoft application, we barely noticed any delay or crashes.
On the other hand, Dropbox performed equally well as well. But we noticed a slight delay when trying to collaborate on an office doc.
OneDrive vs Dropbox: Which One Should You Choose?
It's almost impossible to differentiate between these two cloud storage platforms in terms of the services they offer. If you are not more concerned about the storage and are looking for a cloud option at a cheaper rate, then OneDrive could be the ideal option for you.
If your business revolves around creativity, then Dropbox should be the go-to option for you as it comes integrated with apps like Adobe and iStock. Dropbox also unlocks the ability to upload unlimited files. In layman's terms, if you are more into productivity, then go with Dropbox without any second thought.
We suggest you only go with OneDrive if your company has been using Microsoft apps for a long time. Furthermore, it comes with the integration of apps like SharePoint, Teams, and Yammer, making it easy for you to communicate with your large team.
Overall, it all comes down to which one fulfills your needs the most. So, let us know in the comment section which one of the cloud storage options you will choose to run your business successfully.