Google Drive is a well-known file storage service developed by Google that saves files over the cloud. The App is free to use up to a certain amount of storage, and due to its free nature, many users use it to share documents and video files with others. Google Drive does support a video playback feature, so users can play the video on Google Drive without downloading it. But for some reason, many reports are coming for videos not playing in the Google Drive app for Android and showing some error message 'The Video Cannot Be Played". What's the reason behind this, and how can you solve it? We will discuss this in this article today.
Google has well-developed apps for the majority of its services, including Google Drive. The Google Drive app for Android comes with all its features, including file uploading, downloading, and file preview features. But due to unknown reasons, some users face issues with Google Drive where the video files are not playing within the app. An outdated version of the app most likely causes the problem. Here are some troubleshooting methods to fix the problem.
The Guide Will Help you Fix the Following Issues on Google Drive App;
Video Just Loading/Buffering But Not Playing
Problem with File Error
The Video Cannot Be Played Error Message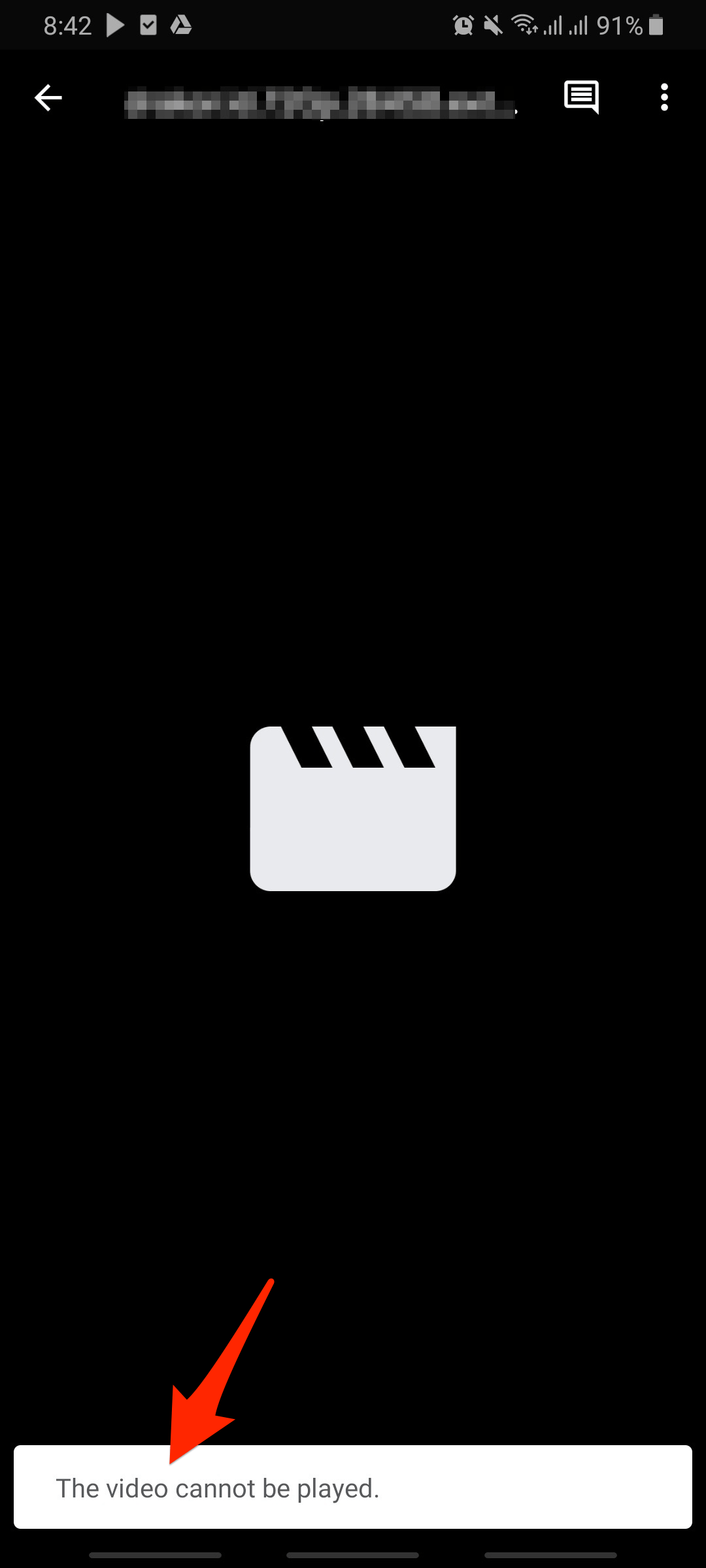 Why Playback Issues Occur on Google Drive App?
In this comprehensive guide, we are going to explore every possible solution to rectify the issue. But, before heading towards the solution, we recommend first you check your internet connection. Because a low internet connection will not be able to preload or preview video files in Google Drive.
As we dive deeper, we get to know some major causes that may affect the video preview system in the Google Drive Android app. So here's the complete list of a few common reasons.
Unsupported File Type
Google Drive supports almost every file, but there are a few formats that Google Drive does not support. So, we suggest you check your video file format and see whether it is MP4, MKV, M4V, MOV, or AVI format only. However, if you find that Google Driver does not support the format, then convert the video format as per the list of formats supported by it.
The Video Maybe Still Processing
When you upload a video file to Drive, the Google Servers transcode the video into supported formats and codecs for you to directly play the video in Google Drive. If the file is large, then it may take some time to process the video completely. And during this process, if you try to play the video, you will see the error message – "The Video Cannot Be Played."
Larger Video File Size
Google Drive allows sharing video files up to 5 TB and provides a 15 GB cloud limit to a free user, so it is rare but possible. That's why we recommend you check whether the video file size is in between the limit or not. However, if the size is also fine and you are still getting the error, we recommend following the next potential tips to get rid of this error.
Pirated Content
Sometimes Google blocks, or bans the content or video if it contains copyright content to stop copyright issues, mostly with movies or song videos. So check whether your file is not one of those, and also to find such type of file, Google uses file hashing to detect pirated content.
How to Fix 'The Video Cannot Be Played' in GDrive App?
Here are the Best Methods to Fix the Video Playback Issue on Google Drive Mobile App for Android.
Method 1: Update Google Drive App
Google servers may not work well on an older version of the GDrive App. The updated Google Drive app will right tick on all security and server parameters to load the content smoothly. So, it is best to update the Google Drive App for Android to see if the playback issue is fixed.
Steps to update the Google Drive app:
Open Playstore and search for Google drive.
Click on the update button to update the app.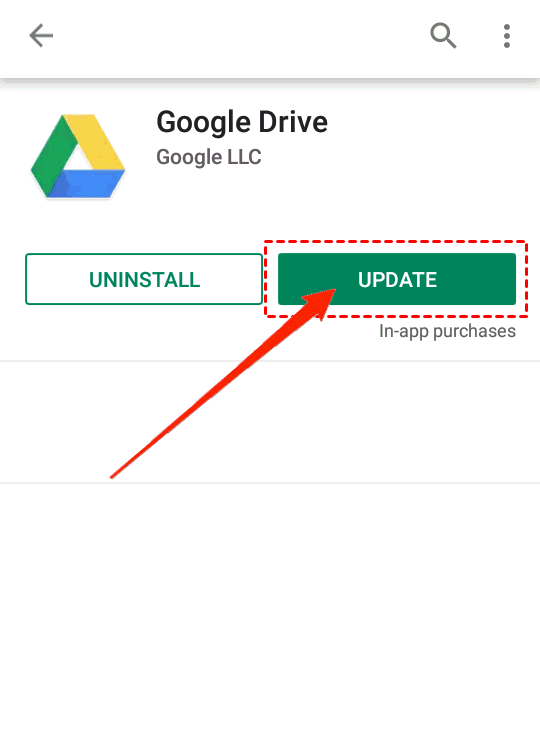 Method 2: Clear App Cache
Android smartphones keep cache storage to make sure the apps run faster and give users a seamless app experience. But sometimes, due to improper cache management, some apps tend to give certain errors, like facing the video playing error here. To fix this, we need to clear the app cache for Google Drive.
Steps to clear Google Drive app cache:
Open Settings and navigate to App management/App/All Apps.

Search Google drive in the app list and open.
Click on Storage usage.

Hit Clear cache. After clearing the cache, rerun the app to see if the issue is fixed.

Method 3. Directly Play Video in MX Player/VLC Player
You can directly stream the video in your Android Video player with network stream support. All you need an API key to create a Google APIs URL link. And directly stream the video on your MX or VLC media player without any loading issues. The players support all codecs; you should not face playback issues. Guide – Stream Google Drive Videos in MX Player without Downloading
Method 4: Try Playing the Video in Mobile Browser
You can also copy the video URL and play the video file in your mobile browser like Chrome. Also, make sure the file is original and not a copy of the original file. And stream the video on your mobile browser without any issues.
Method 5: Check video resolution
You can share up to 4k videos on Google Drive, but it cannot play high-resolution video as the max resolution supported by Google Drive is 1920*1080 pixels. So if the video file has a high resolution, then the best option is first to download the video file and then play it on a video player.
Conclusion
If you are still suffering from the same issue, download the video on your computer or phone and play it on any video player. However, in our opinion, this is the best way to get rid of the error mentioned above. Let us know if you have any queries.