The Google Photos app for iPhone and iPad offers the option to automatically back up photos and videos to the Google Cloud account. The process is simple; you only need to enable the backup and sync settings in the Photos app. Based on your settings, the media will be uploaded to Google whenever you are connected to Wi-Fi or mobile data. The photos are backed up even in the background, so you do not always need to keep the app active for the upload process to continue.
But many people are reporting issues that photos are not uploading to the Google Photos from the iPhone and iPad mobile. This may be an issue concerned with the app's settings, or it may be an issue with iPhone settings. So, today in this guide, I will tell you all possible solutions to fix this issue and resume the backing process on your Google Photos app for iPhone without interruption.
Here are the Best Methods to Fix Google Photos Backup Not Working on iPhone and iPad.
1. Check Backup Settings
The Photos app for iPhone offers a few settings that let the user auto-upload photos and videos to the cloud. These settings may be necessary based on your preference on how you wish to back up the media. You can backup the pictures and videos only when connected to WiFi if you want. And also, you can back up the media over mobile data and Wi-Fi, whichever is available.
Open the Photos app, click on the profile icon, and tap on Photos Settings. Click on Backup and Sync and make sure it is enabled.



Below, you will find a couple of options; if you turn on the toggle to use mobile data to back up photos and videos, the media will be uploaded to Google when connected to mobile cellular data and WiFi. If you turn the toggle off, photos and videos are only uploaded when connected to WiFi. So, keep the settings according to your need.


---
2. Disable Low Data and Battery Mode
The low data mode and low battery mode in iPhone mobiles tend to reduce mobile data usage and battery consumption. They restrict the background app data and stop some background app processes. Google Photos back up the media in the background, and with these two options enabled, the backup process will be interrupted on the Photos app.
How to Disable Low Data Mode?
Open Settings → Click on Mobile Data → Tap on Mobile Data Options Low Data Mode → Turn Off Low Data Mode Toggle.



---
How to Disable Low Battery Mode?
Open Settings → Click on Battery → Turn Off Low Battery Mode Toggle.


---
3. Check iPhone Settings
A few settings on your iPhone mobile assist Google photos in backing up the pictures and videos to the cloud. Background App Refresh is a feature that allows apps to update their content over the internet, even while you're not using them. The apps like Photos that need internet in the background require the option to be enabled.
Go to General → BA Refresh → Turn On Google Photos Toggle.
---
You can also set on which network you want to refresh the background app data.


---
Also, there is another setting that you need to look for, open G-Photos on iPhone Settings. Here is an option that grants the Photos app access to Apple Photos. So, if the permission is limited, only selected media is uploaded to Google. Grant Google Photos access to All Photos.



---
If you are backing the pictures and videos on cellular data, you need to enable access to Mobile data on iPhone settings.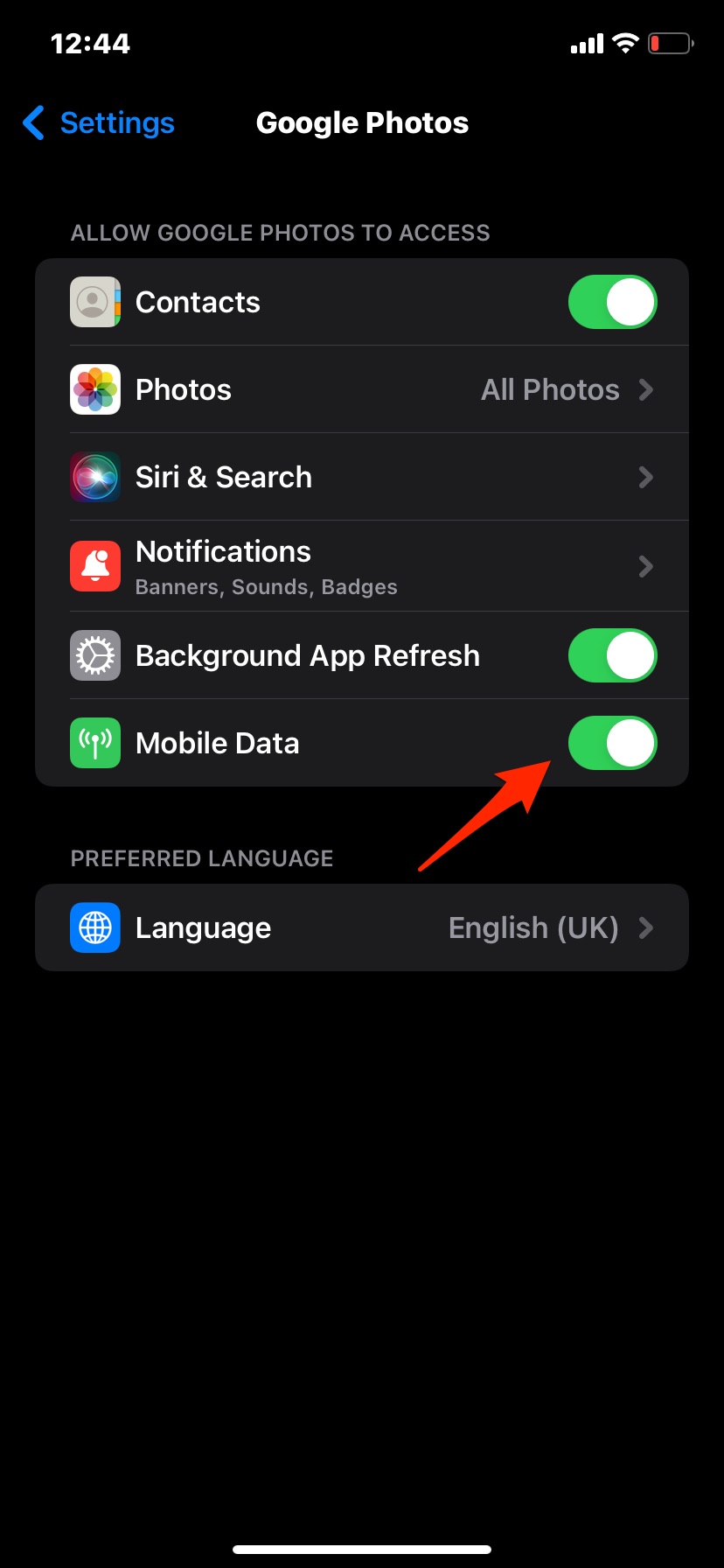 4. Update App and System OS
If the issue is not with the network, but explicitly with the app, it is highly recommended to install the upgraded version if available. The updated app brings bug fixes and security patches that may be needed to solve the problem that may have been causing backup interruption on your device.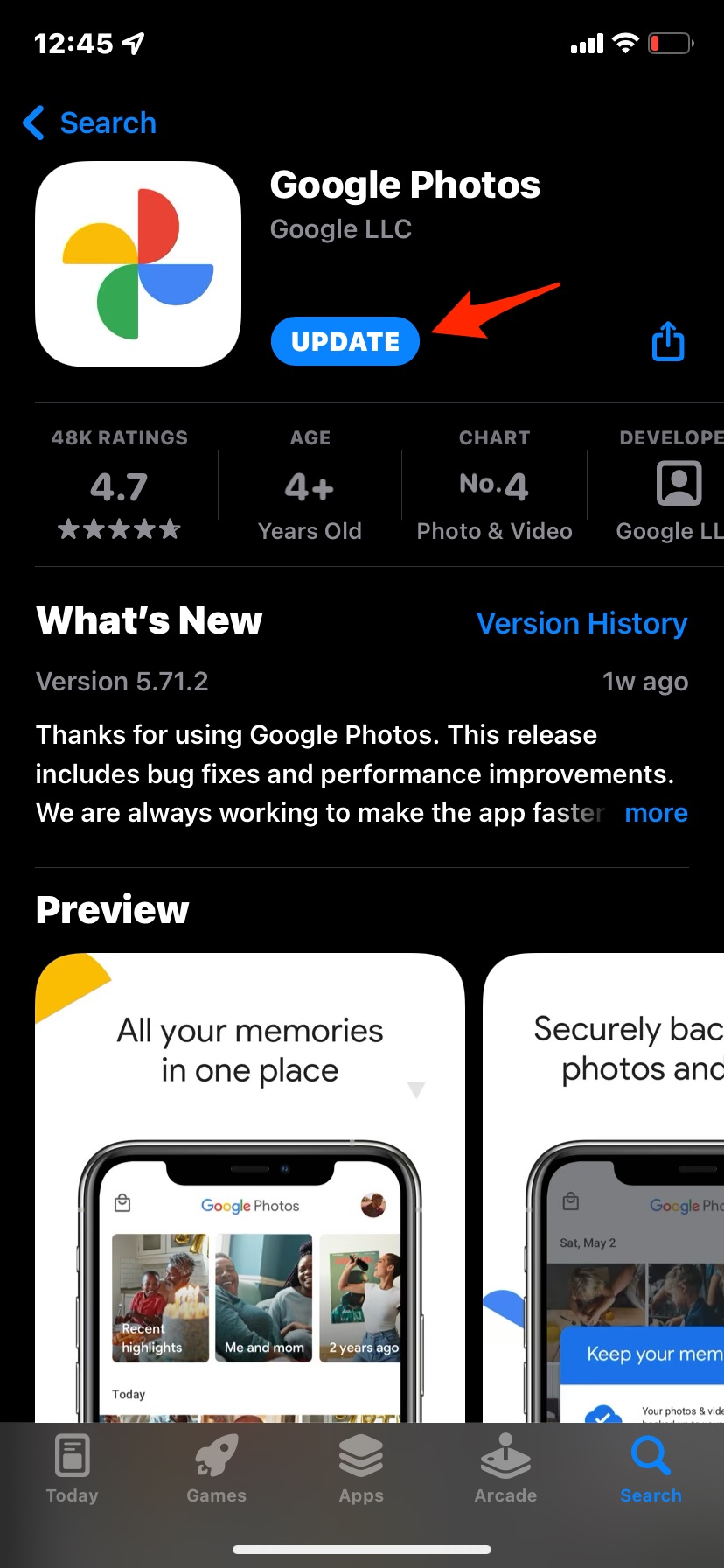 Also, if you think everything is good concerning the app's setting and if still, you are facing the backup issue, then I recommend you check for or iPhone update. If an iOS update is available for your device, install the latest version to solve any issue with the phone that may have system constrictions blocking back up on Google.


---
5. Check File Format and Size
There could be an issue with the file format or size. If the format of the file is not correct or if the size of the file is too big, then the Google Photos app may run into trouble. As mentioned on the official Google Support page, a photo or video may not get uploaded if a photo exceeds 75 MB or 100 megapixels or a video is over 10GB in size.
Moreover, Google Photos supports only mpg, .mod, .mmv, .tod, .wmv, .asf, .avi, .divx, .mov, .m4v, .3gp, .3g2, .mp4, . m2t, .m2ts, .mts and .mkv file formats. So, you need to ensure that you are following the above-mentioned criteria and the file format of your media files.
6. Check Google Storage Space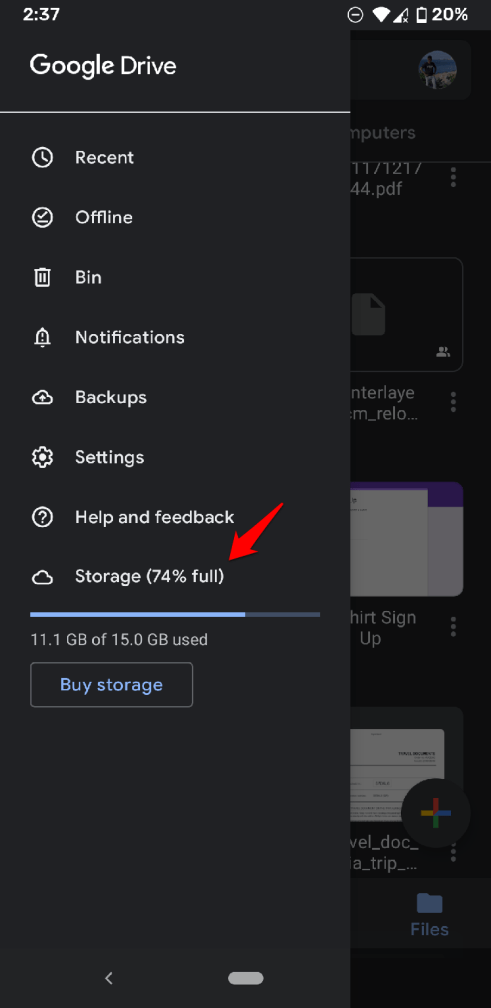 Google offers 15GB of free space that is shared across, Drive, Photos, and Mail. If you are running out of storage space then the backup or upload will not take place as there is no space to store any extra files. You can either delete any useless or less-needed files from your Drive/Photos or buy a Google One Subscription that offers increased storage space.
Conclusion
That's it; with this simple guide, you can fix any backup issues on your iPhone mobile; check the settings on the Google photos app on your iPhone settings make sure low battery mode and low data mode are off, and if none of the above work then its best recommended updating the software if available to solve Google Photos Backup Not Working on iPhone.