OneDrive is one of the most popular cloud storage solutions available and it comes by default on the Windows PC, making it a de-facto choice for most PC users. In case you have recently switched to a Mac computer and want to sync your OneDrive data or want to access OneDrive files on your MacBook, you can use the OneDrive desktop app.
Users are reporting that OneDrive does not always work as intended and it crashes or does not open. If the OneDrive app on your Macbook is not opening or is crashing when you are trying to open or use it; then below are the best methods that can help you fix OneDrive not opening an issue on your Mac PC.
1. Reset OneDrive on Mac
If OneDrive is not opening on MacBook, then it is good to reset the app. Resetting will clear all settings and data related to the app 0n Mac. This will give the OneDrive a fresh start.
Find OneDrive in your Applications folder and right-click OneDrive to select Show Package Contents.

Browse to the Contents > Resources folder, here double-click ResetOneDriveApp.command or ResetOneDriveAppStandalone.command.

2. Quit OneDrive
If OneDrive is running in the background then it is good to quit the OneDrive process. There are two options available either quit the OneDrive from the menu bar or you need to force quit the application from a Mac Activity monitor.
Click on the OneDrive icon on Mac top bar.
Here click on the Settings icon.

Quit OneDrive.

If the OneDrive app is not opening the menu option but running in the background then you need to use Activity Monitor to stop the OneDrive process.
Open Spotlight by pressing the command ⌘+ spacebar. Here search and open Activity Monitor.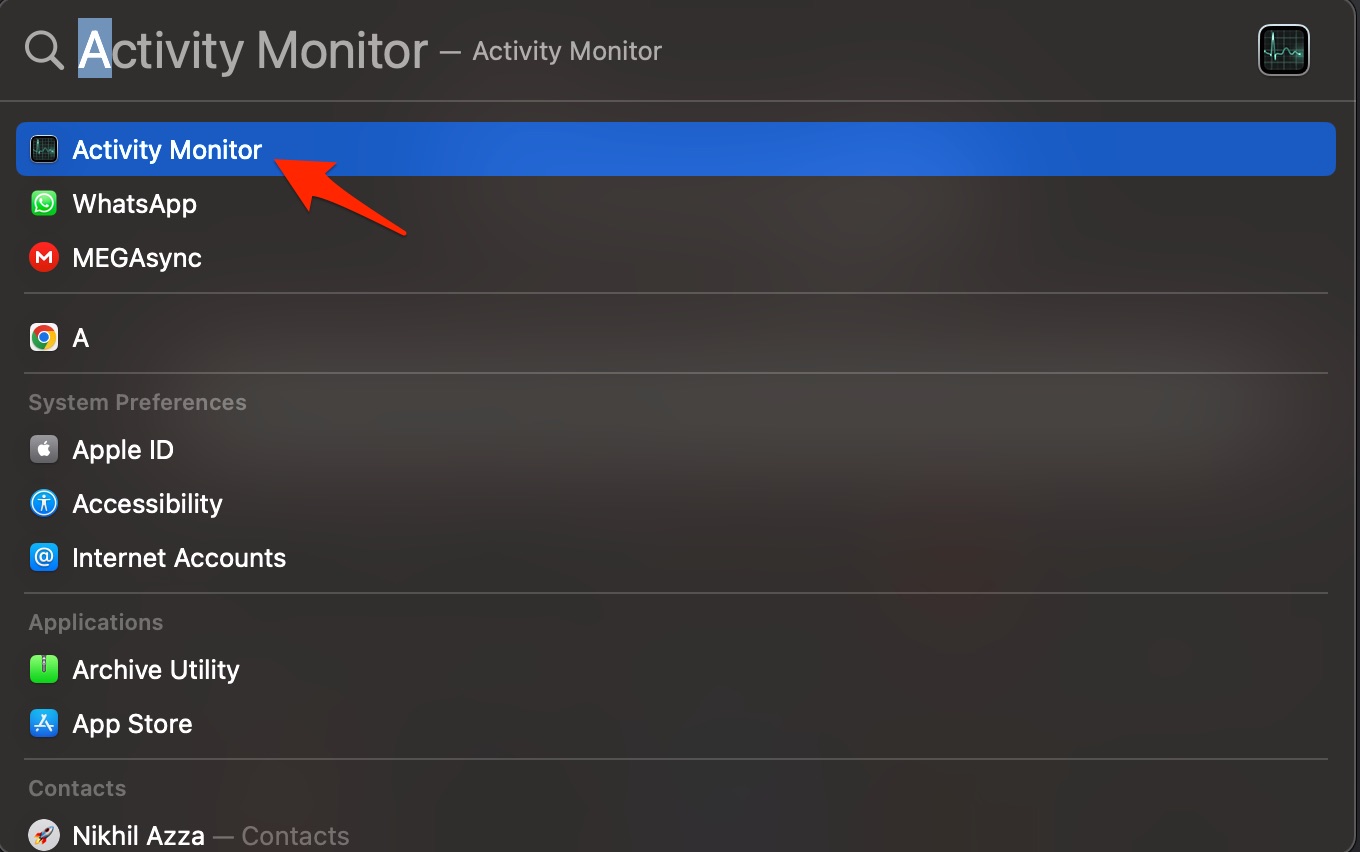 Here click on Processes (CPU Tab), search and select OneDrive and click on ⊗ to stop the process.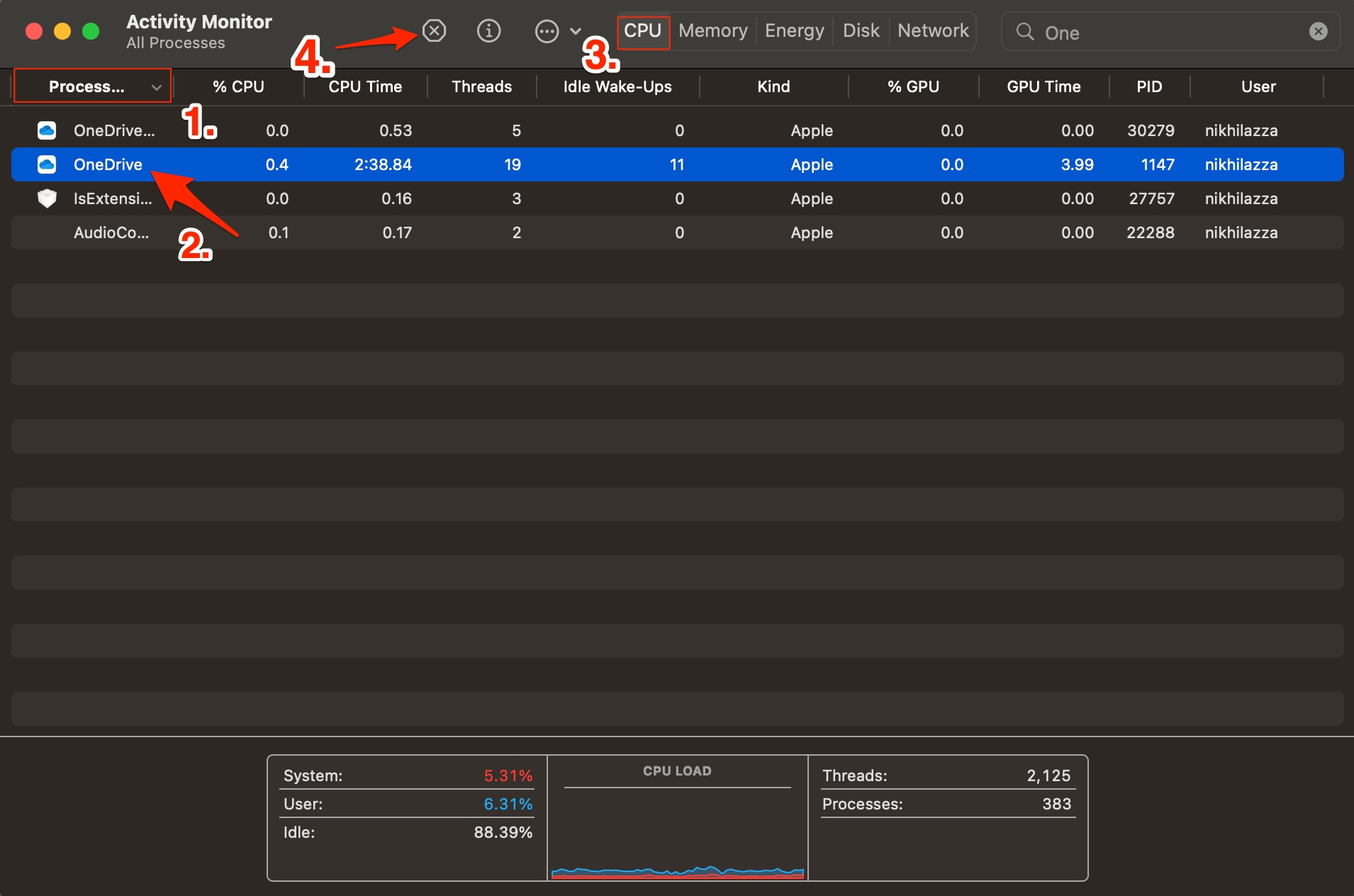 Now force quit or quit the OneDrive process.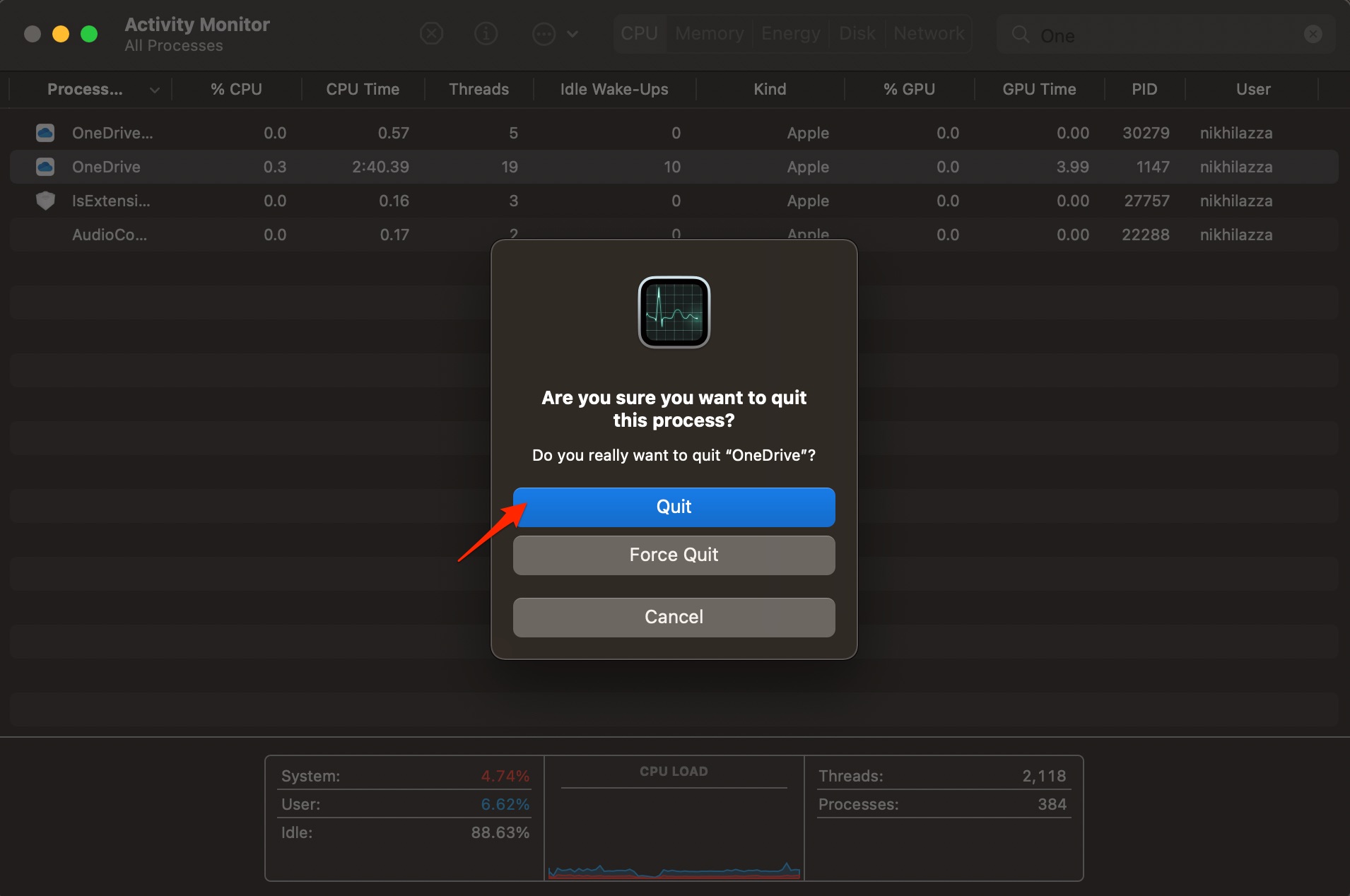 3. Reinstall OneDrive
If OneDrive is still unable to open on Mac PC, the best option is to uninstall the software and reinstall it. Uninstalling the software will remove all the cache and related data from the Mac PC. Download the app from Microsoft site and install it again, the app will work fine.
Quit OneDrive App.
Open Finder, click on Application, and look for OneDrive (Two-finger tap) and Move to Bin.

Now download OneDrive and install.
Conclusion
If the OneDrive desktop app on your Mac PC is not opening or is crashing when you are trying to sync your Drive files with the computer then force closing the app or restarting it will help you fix the issue. Above are the solutions that can help you solve the problem on your PC.